As you prep for the week ahead, checking in on the major averages is always wise but then your attention will naturally turn to individual names of interest.
While my trading plan is reserved for members of the site, I wanted to nonetheless share 5 setups of interest I ran across this weekend in doing my research.
Put them on your radar and keep assessing them daily. As setups are negated, replace them with others.  As setups confirm their patterns, observe their behavior closely to determine whether or not they still have some gas in the tank.
Here are 5 setups of interest for this week:
AAPL is at a key decision point area here as it comes into the $539 level which has been respected on both sides since October.  Following declines in 6 of the past 7 sessions, it's also a spot for a logical bounce to arrive after a $31 dip.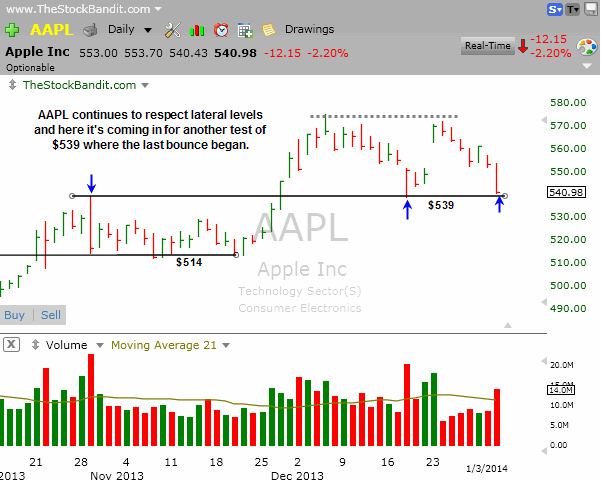 MS is sitting in a high channel pattern here and could produce a measured move equivalent to the height of this range ($1.85).  A breakout above $31.90 would need to happen first.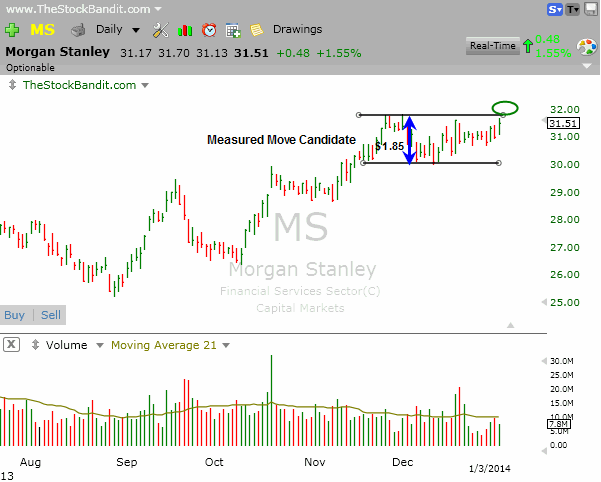 YOKU has quietly built higher lows in the past several weeks to show some accumulation taking place on pullbacks.  It's a slippery stock though, and is no stranger to short-term reversals.  That said, it's facing a possible breakout if it can clear $32.35 to post a new high.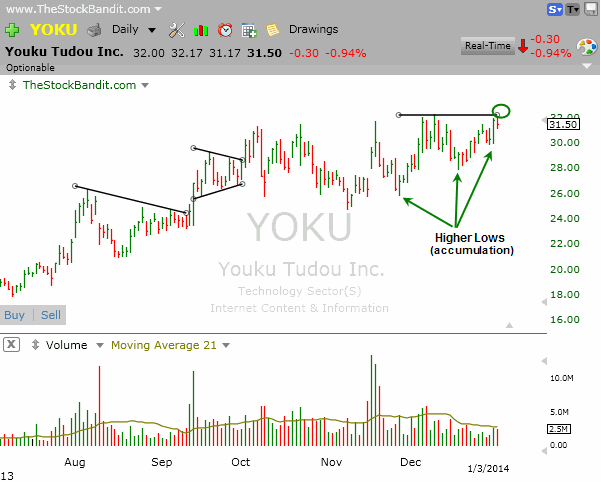 NOV is caught in a series of lower highs and currently is resting on the lower end of a rising wedge pattern.  A downside break near $78.50 could spark more selling and there's an unfilled gap down to $74.30 which price may soon gravitate toward.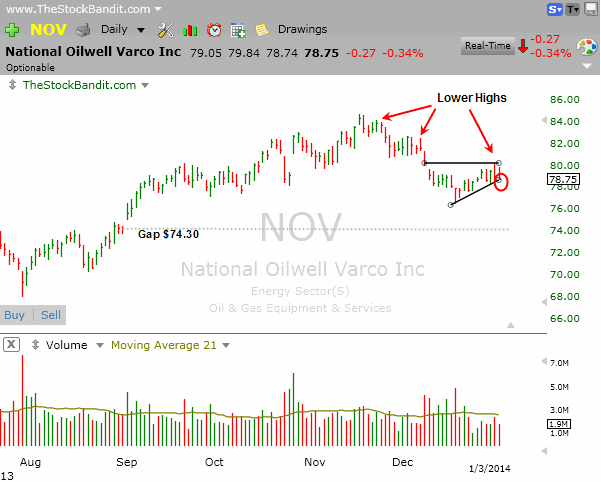 FB just failed a breakout and now the short-term bounce is proving unable to reclaim it.  A turn down through $54.40 could trigger another wave of selling and take some of the air out of this big performer since late Nov.  The run may not be over, but this short-term failure and subsequent stalled-out bounce definitely opens the door to some profit taking.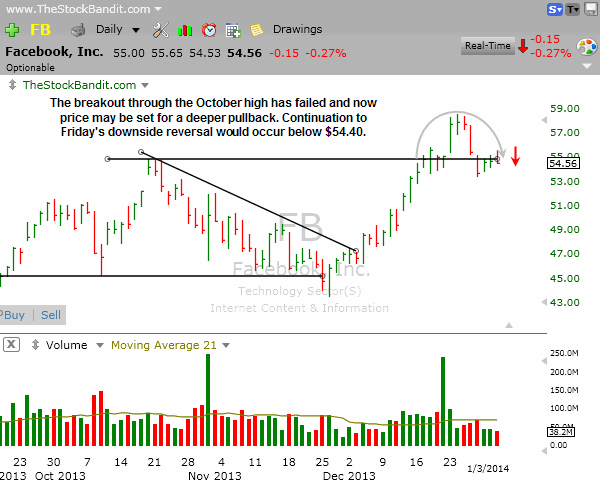 Through the nightly service, I share swing trade setups with members here including my planned entry, stop, and target levels. I also produce Charts on Demand for a special Thursday educational video. Check out the trial if you'd like to kick the tires.
Trade Like a Bandit!
Jeff White
Take a trial to our Stock Pick Service to get our trades.