A 3-day pullback to kick off last week left bulls itching to put cash to work, and that's just what they did.  By the close on Friday, the RUT, S&P 500 and DJIA had each broken out to new all-time highs.  That keeps the pressure on bears as we head into a holiday-shortened week of trading (which frequently has a bullish slant), and the question remains whether this is the year-end melt-up or simply the start of one.
As we head into a new week of trading, it's time once again to take a look at the indexes and the key levels they're dealing with. This will impact how individual names move, so it's where every new trading week begins.
NAZ – The NAZ gave up 3966 last week, the prior breakout zone, then quickly reclaimed it to finish just 4 points off its multi-year high.  Following several weeks of basing activity, this index may be poised for another big run despite the lack of profit-taking we've seen since early October.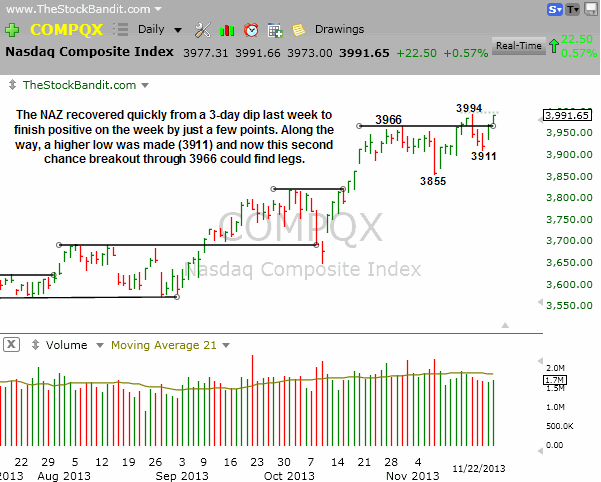 SP500 – The S&P has added 9.6% since the low on October 9th, making this one very impressive run for the blue chips.  We've recently seen a little rest, but virtually no profit-taking, and that leaves this index with a bit of a stretched appearance.  However, last week we saw 1775 validated via a pullback test, followed by the creation of a new all-time high.  The trend is up, it's just wise to trail stops along the way when the air starts to get thinner.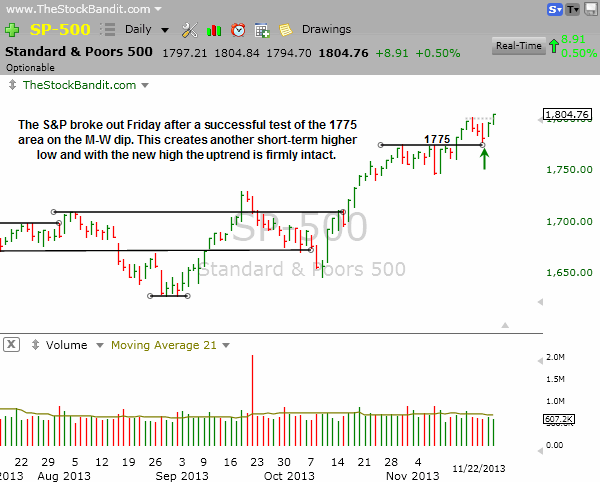 RUT – The RUT had led the way higher for the past year of this rally, but in recent weeks it has stalled out.  There was a potential lower high in play as recently as last Monday (1119 vs. 1123), but that scenario was eliminated with the creation of a new all-time high on Friday as the small caps pushed through resistance.  This breakout is for now only incremental, but it's a step in the right direction for the bulls who seem to have no plans as of yet to leave the party.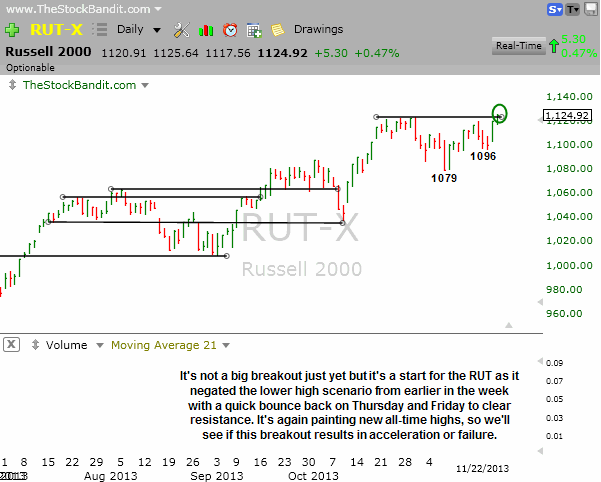 DJIA – The DJIA just keeps grinding higher since its false breakdown on October 9th, adding some 1345 points since that day of just over 6 weeks ago.  It just painted a new all-time high with Friday's advance, keeping it firmly within its uptrend channel.  Until that changes, there's no reason to expect anything different but brief, shallow dips on occasion with otherwise steady strength.  A shake-up will eventually come, but technically there's no indication it's imminent.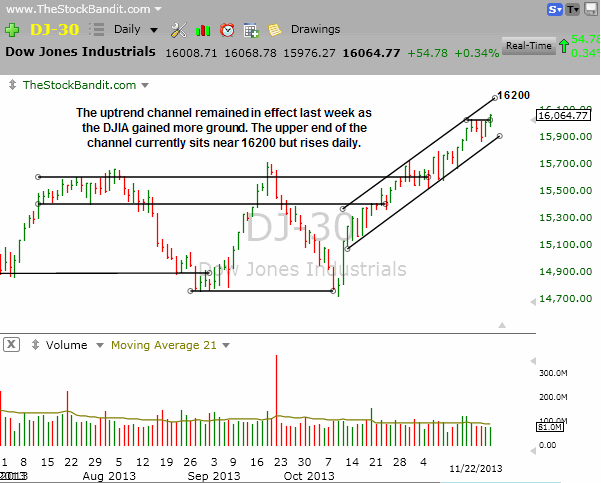 Take a trial of the Stock Pick Service to get my trades.
Trade Like a Bandit!
Jeff White