On Thursday, the S&P 500 posted its best session since September 13th, gaining 1.09%.  It helped to mark a potential turning point, at least in the short term, for the troubled index, just two sessions removed from its correction low last Friday.  Bulls slept better last night.
This morning, we had an initially positive response to the jobs number today, and the market looked poised to continue the bounce by clearing Thursday's highs.  Morning strength was short-lived though, and now stocks are back in retreat mode with early strength getting sold.
Technically, bounces have been getting sold, so this is not something new compared to the price action in recent weeks.  Throw into the mix the fact that the S&P is again dealing with the 1426 area (former support turned resistance – see chart below), and it's clear the bulls still do not yet have smooth sailing ahead of them.
Psychologically, the biggest unknown of the year is just a couple of sessions away with the Presidential Election.  We all know that the Street hates uncertainty, so today we're seeing cash head back to the sidelines – presumably now that this week's big events have passed.  And now the focus shifts to the election, and traders have a case of pre-election jitters.  With the race looking pretty tight and very different futures promised by both candidates, it's no wonder stocks are on the fence here.
It's a great time to lay low and/or abbreviate timeframes for new positions.  The market is struggling to produce follow through, which means frequent shifts of direction and moves which don't last long.  Stay nimble, preserve capital, and wait for some of the dust to settle.  If the October lows are going to stick, there will be plenty of chances to get on board for a recovery moving forward.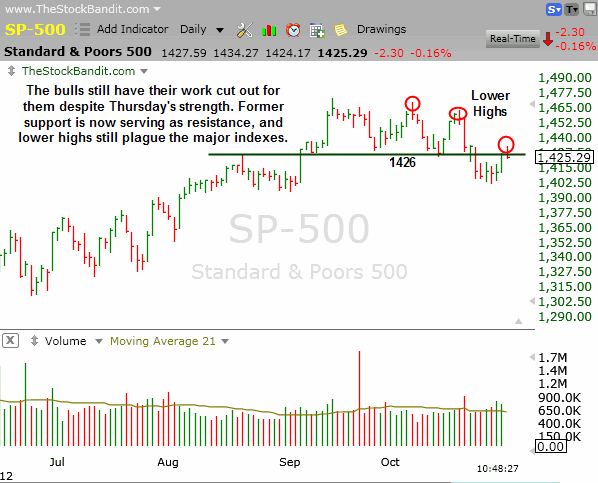 Trade Like a Bandit!
Jeff White
Subscribe to our Stock Pick Service to get our trades.