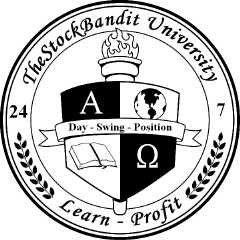 TheStockBandit University has equipped hundreds of new traders for what they face in the markets, as well as helped those with experience who simply needed to get back on track.
Interacting with each of those traders gives me an opportunity to see frequent improvements in both their approaches and their results. To call it rewarding is an understatement.
Some of the feedback I get is detailed, outlining the specifics of a trader's journey and how they've found TSB-U to be the light they were fumbling for. And other times I get something simple which still says plenty. Here's one I just received from a new student after having a couple of weeks with our courses:
Jeff,
I have been watching the lessons on your site, they are very helpful. I am very happy with my decision to purchase your product. I am confident that you will be able to teach me more about trading and help me succeed.
Thank you for the opportunity,
E.A. (NJ)
I recall having a conversation with this individual at a conference where I had spoken, and he was hesitant to pull the trigger despite the risk-free offer we have. He ultimately decided to give it a shot, and he's glad he did. I knew we could help him, and now he's experiencing breakthroughs.
We'd love the opportunity to help you as well. Whether you're just transitioning into trading and need to be brought up to speed through our Basic Course, or if you've got some experience and just need help getting to the next level with our Advanced Course, we've got something for you. And with zero risk to try it out, it will be the best trade you make today.
Trade Like a Bandit!
Jeff White
Subscribe to our Stock Pick Service to get our trades.