Election Day is finally upon us, and hopes are high among Democrats and Republicans alike – not that their candidate will win, but that we'll see some better market momentum surface once the votes have been counted!
For the past couple of weeks, the indexes have worked their way to new correction lows, only to just sit here.  We haven't yet bounced, and we haven't yet broken down hard.  Instead, we've carved out some short-term trading ranges which are the boundaries to keep a close eye on in the days ahead.
Perhaps as soon as this week we'll see an exit, provided we get a Presidential decision and that there's at least a knee-jerk response to it.  It seems this year has been characterized largely by highly-anticipated news events which result in lackluster market reactions, but hopefully this one will prove different.
Here's a chart of the RUT, which has found near-term support at 807 while resistance sits at 833.  Tonight, it's caught in that range.  The lower highs (recent weeks) and higher lows (recent months) shown on the chart are converging more with each passing day, so I'm watching closely for a resolution to these mixed signals.  Take a look: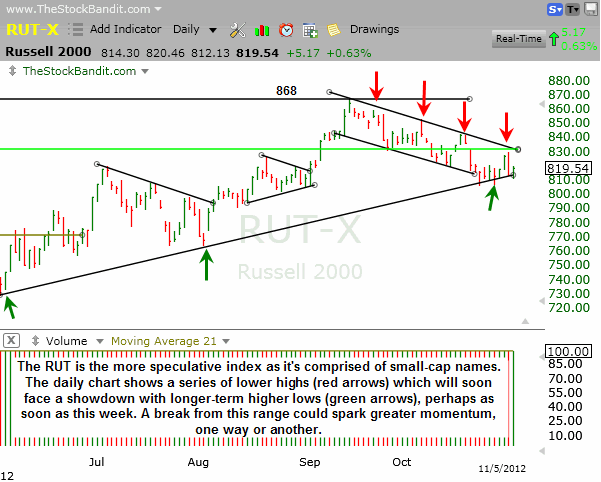 Trade Like a Bandit!
Jeff White
Subscribe to our Stock Pick Service to get our trades.