Some traders spend every day on Twitter, posting dozens of trades and conversing nonstop.  It can be a lot to keep up with!
I try not to clutter the feed with non-pertinent info, unless it's the evening or weekend when I might do a little more.  Regarding my market thoughts, however, I've put out some useful ideas recently which you stood to benefit from if you're following.
For example, on May 22nd at 10:01AM, I posted the following:

That proved to be timely, as it's currently standing as the market top.
This week, I shared some additional thoughts on the eve of the FOMC announcement.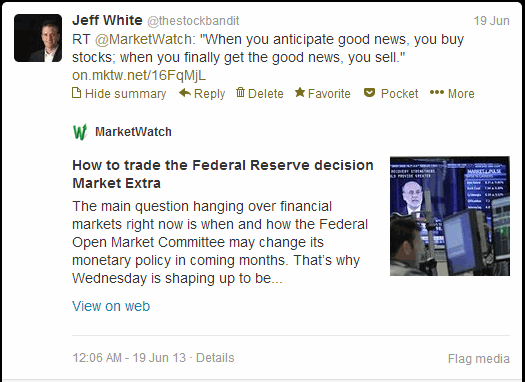 Note that I didn't predict anything, as that's just not my style.  But I did point out the possibility for a downside reversal post-FOMC, as well as provide some reasons behind it.
Remaining a student of the recent price action will keep you on track.  If you're listening to other opinions, be sure they're objective and not of the crystal-ball variety.
Trade Like a Bandit!
Jeff White
Take a trial to the Stock Pick Service to get my trades.