Back on October 23rd, I covered $YHOO in a video discussing it as a breakout candidate from a $2.40-wide trading range.  Here's the video which explained it all in 3 mins:
The stock closed above that $16.80 area just 4 days later, and never looked back.  Since then, it's been on a multi-week run and now it has completely met the measured move originally highlighted in the video, taking it right to $19.20.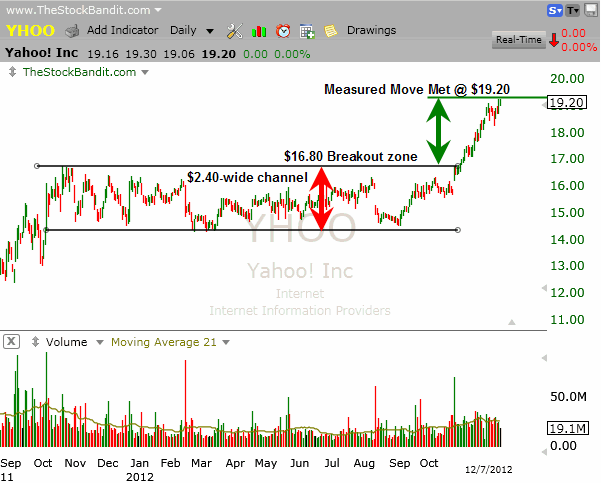 So, now what?
Well, I'll tell you this:  I wouldn't fade it.  This stock is running with momentum.  Whether it's the breakout, elevated expectations after a decent quarter with new Chief Marissa Mayer at the helm (she's my age!), or hopes for a special dividend ahead of year-end, I just don't know.  Nor do I care.  The fundamental story isn't what matters – it's the price action, and right now it's bullish.
But at the same time, I wouldn't establish a new position here.  In fact, I own a position in a long-term account and sold some calls against it this week based on this measured move coming to fruition.  If it gets called away from me, it's been a great ride and it frees up cash.  If the stock pauses or pulls back, I collect premium while it churns.
However, an entry here begs the question of where to exit, and currently that's not very clear after a straight-up move.  Once we see some give-and-take and establish some near-term levels, the picture should become more clear.
Hopefully you participated in the move as well.
Trade Like a Bandit!
Jeff White
Take a trial to our Stock Pick Service to get our trades.