Stock Newsletter – Swing Trading Newsletter
Take the free trial of our stock pick service to see if it is right for you.  The Bandit Blueprint stock newsletter applies technical analysis to stock charts to produce swing trading candidates.  These stock trading candidates are highlighted in The Bandit Blueprint, a nightly feature for subscribers.
Below is a sample of what you can expect from us.  You may wish to visit our FAQ page, as well as our Using The Bandit Blueprint page for tips on using our stock newsletter.
Also, please visit our testimonials page for some feedback and comments from our subscribers!
6-Month Membership:
$497 per 6 months after Free Trial
Annual Subscription:
$797 per year after Free Trial
SAMPLE NEWSLETTER
Good evening StockBandits!
Today's session was a dull way to kick off the new week as AAPL grabbed the headlines while everything else just seemed to churn. The NAZ was of course impacted by the weakness in the tech giant, but elsewhere the indexes finished little-changed on the day. That adds to the digestion we've been seeing in recent sessions, and still leaves the bulls in good shape for an attack on the highs.
It's options expiration week and that typically brings with it some out-of-the-norm activity due to the derivatives trading. It's common to see a heavy volume session during expiration week, so we'll keep an eye on that in the next few sessions to see if it accompanies any meaningful move in prices.
As a friendly reminder, it's also the start of earnings season, which means a watchful eye on the earnings calendars must be kept! I use EarningsWhispers and Yahoo! Finance primarily, in order to avoid any big surprises. They're great sites to bookmark as quarterly reports start rolling in.
Let's get to the charts.
NAZ – The NAZ is caught in a 50-point short-term range here as it holds above the New Year gap and below the highs from last week. A solid close above 3127 paves the way for a test of the 3196 high.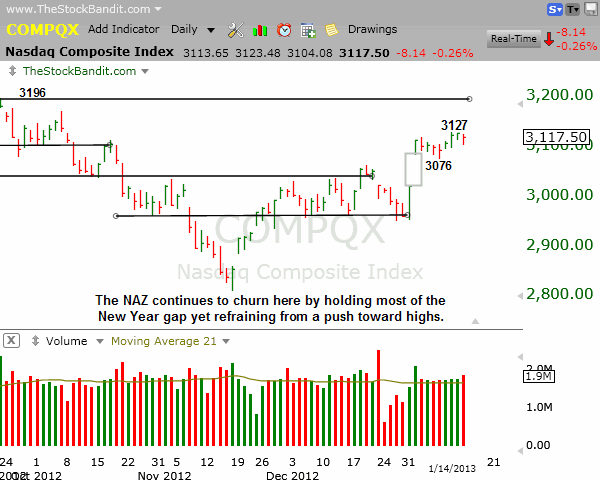 SP500 – The S&P posted another narrow-range day with an incremental decline, keeping it within spitting distance of a breakout. All eyes remain on 1474.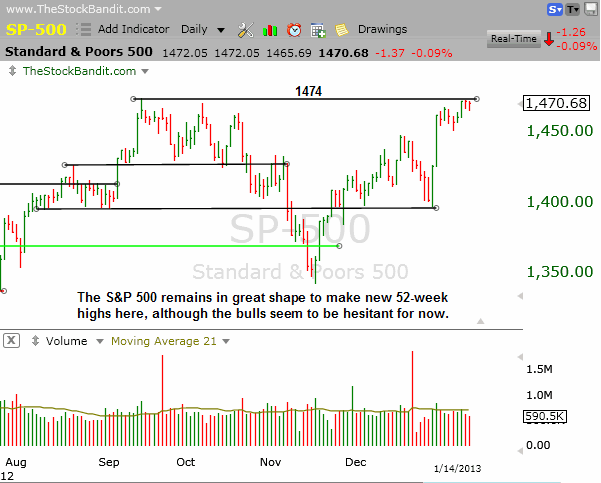 RUT – The RUT finished virtually unchanged today, closing right at 880 yet again. Last week's high was 883, and potential support lies at 868 where this small-cap index broke out two weeks ago.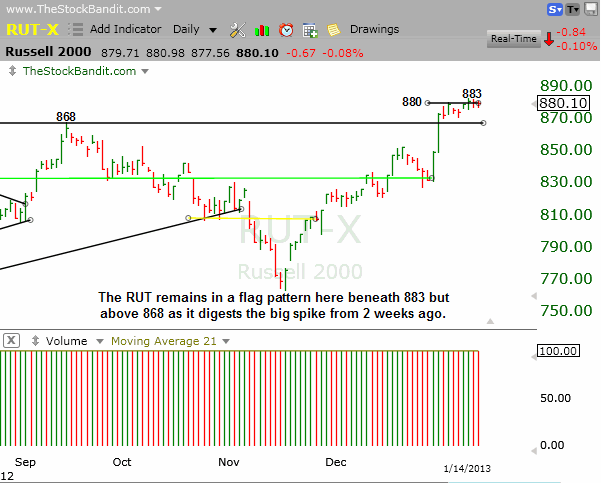 DJIA – The DJIA eased higher today and now faces the first lower high and the 52-week high from October as potential resistance levels.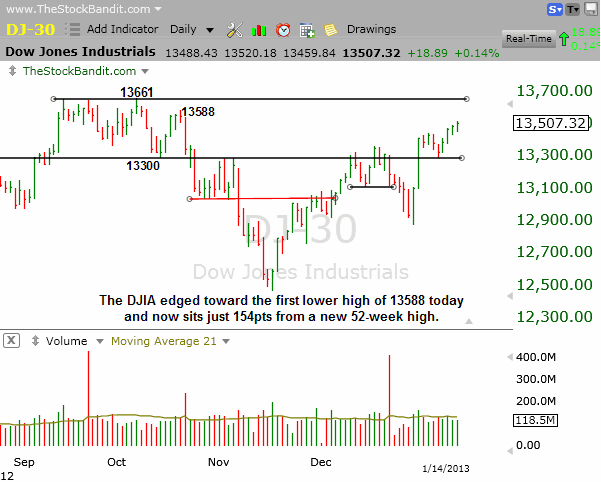 Notable Names

:

AAPL took another hit today with a downside gap on news of reduced orders for iPhone parts due to lower demand for the phone. That left this stock lingering in the $500 zone for much of the day. This is a technical break of support, although it's still so close to the $505 level that the jury is still out on whether this means the start of another leg down.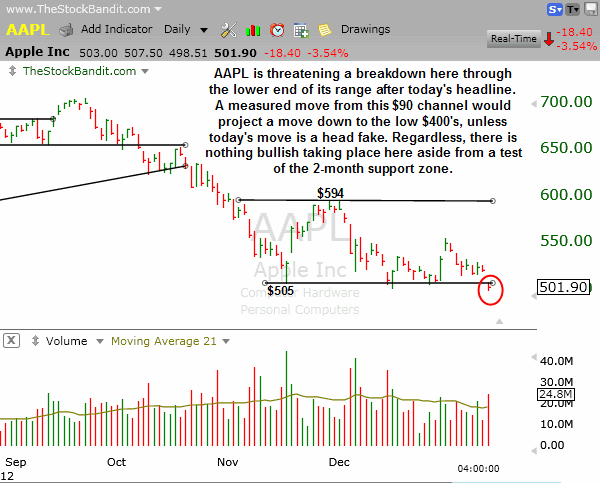 BBY just ramped in the past 3 sessions, gathering attention and making value players wonder if the tide has indeed shifted. Technically, however, this quick jump leaves the stock badly in need of some rest. The first ingredient for a bull flag or pennant is in place, but now the stock will need to move laterally to further develop that type of pattern.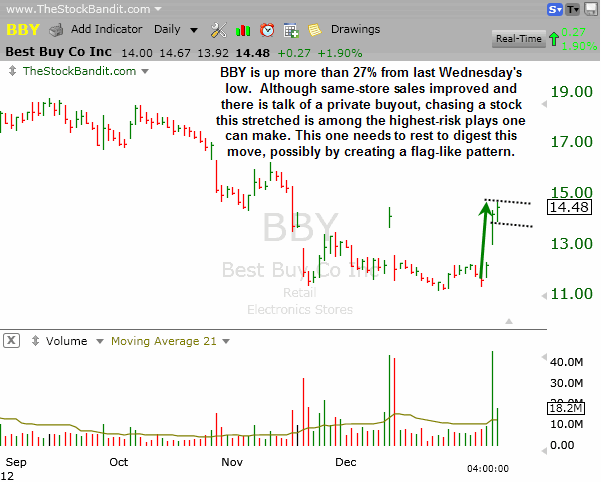 KBH is caught right in the center of 2 key trend lines and belongs on the radar for the days and weeks ahead.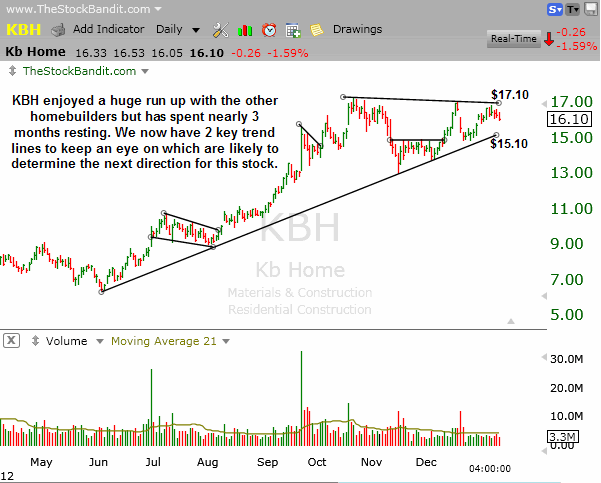 GLD just created a short-term higher low but now faces a multi-week trend line. A push north of it may indicate a turn getting underway.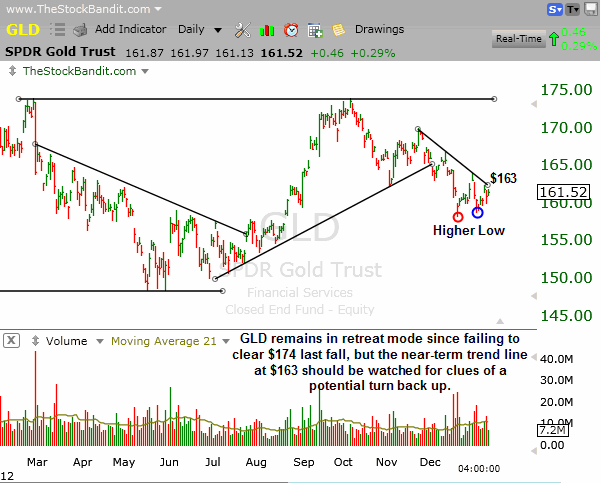 New Swing Trade Candidates

:

These stocks look ready for imminent multi-day moves. Pattern confirmation occurs with a move through the entry level. Initial stop and target levels are also provided.

ADSK is in a well-defined ascending triangle pattern and looks ready to break out. A move above $37.10 puts it back on the move.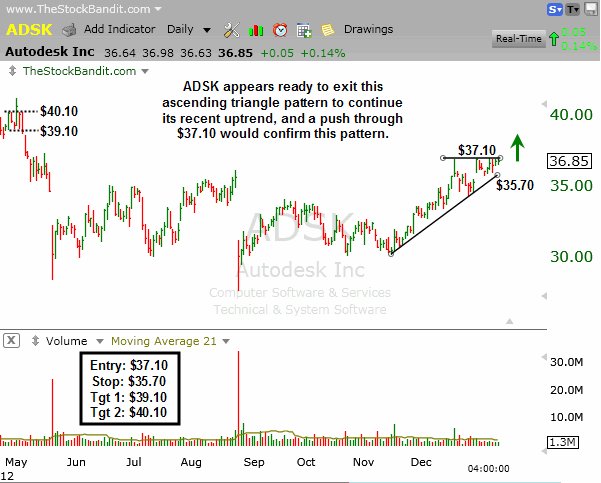 APC has cleared resistance and now held above it, which is very positive. A turn up through $78.30 opens the door for some upside continuation for a move toward the congestion zone from last spring.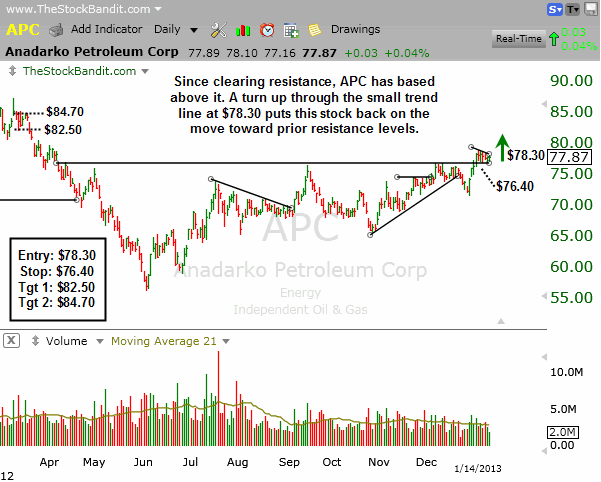 ADS has been building a bull flag for the past few days with this small channel after a quick run-up. A turn higher out of this small range occurs at $157, and I would expect momentum players to jump on board.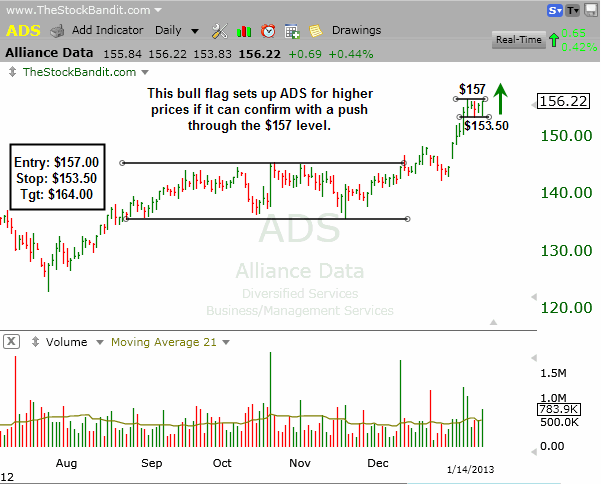 PSX has held support after numerous tests and now the stock has ample room to turn back up. Today we saw a strong close on expanding volume, indicating that perhaps a move is beginning. A move up through $51.60 is the trigger for this one as it works its way back toward prior resistance to potentially make new highs.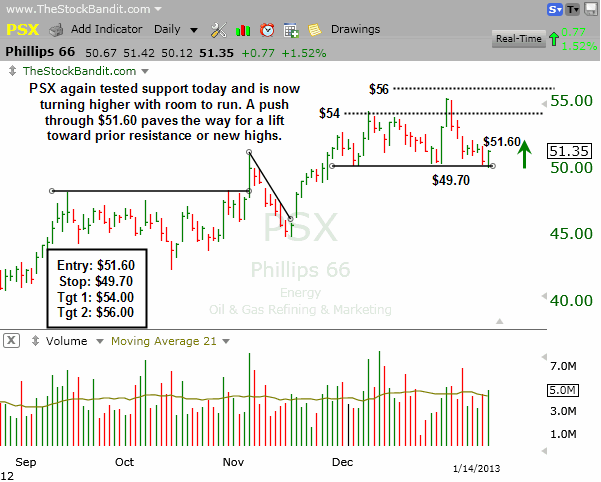 DLTR has moved to the lower end of its channel after a prolonged downtrend. This bearish setup would be confirmed as a breakdown with a move below $37.30 as a trigger for a short sale.