A double top is a reversal pattern which occurs following an extended uptrend.  This bearish pattern is named for the pair of peaks which form when price is unable to achieve a new high.  The sell or short sell signal is when price breaks below the reaction low which formed between the two peaks.
Context:  The double top must follow an extended price rise or uptrend.  The two peaks which form do not have to be equal in price, but rather in the same area with a minor reaction low between them.  This is a reliable indicator of a potential reversal to the downside.
Appearance:  Price trends higher and forms a new high.  This is followed by a downside retracement, which forms a reaction low before one final low-volume assault is made on the area of the recent high.  In some cases the prior high is never reached, while in others it is briefly exceeded but does not hold.  This pattern is considered complete once price makes the second peak and then penetrates the lowest point between the highs, called the reaction low.  The sell indication from this topping pattern occurs when price breaks the reaction low to the downside.
Breakout Expectation:  A double top pattern becomes official when the reaction low is penetrated to the downside, ideally accompanied by expanding volume.  From this point, the distance from the reaction low to the peak is subtracted from the reaction low to indicate the downside price target.  Often times a double top will mark a lasting top and lead to a significant decline which exceeds the price target to the downside.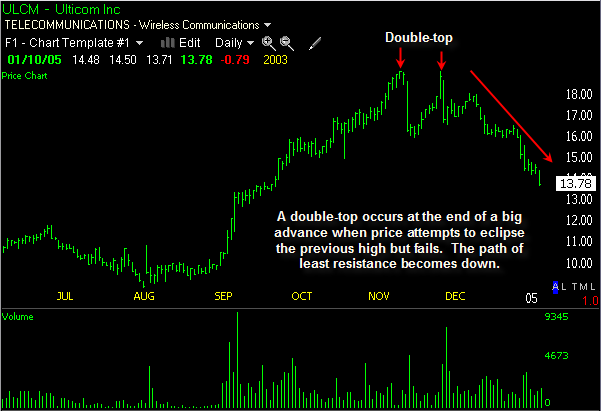 This stock formed a double top after a big price advance.  Once price penetrated the reaction low which formed between the peaks, it made a measured move lower.
The double top pattern is often mistakenly identified, but we point them out to members of our stock pick service whenever we see reliable indications that one is forming.  Come trade with us!
Be sure to learn about the double bottom pattern.