SPY has challenged the $189 level on 11 occasions going back to March 7th.  If that's not validation of a level, then I certainly don't know what is.
The big issue for the bulls (and the SPX/SPY) is not so much the proximity to the highs, as they are still within reach, but rather the repeated failures we've seen for over two months to clear such an important resistance level given all these big opportunities to break out.  The bulls just can't seem to get it done, opting to yawn at the chance to press this market higher.  Apathy is the reigning emotion.
After trying to achieve something over and over, it's easy to get discouraged and at least walk away temporarily to regroup, adjust, and find some renewed focus.
When someone isn't completing their job satisfactorily, they get fired.
And those two comparisons are each fitting here.  Bulls could easily choose to walk away, especially with the decimation of so many NAZ former leaders and the total disinterest in small caps (RUT).  Speculation seems to be at a multi-month low by that measure.  Couldn't the bulls "fire" their positions due to an inability to complete the task at hand (start a new leg up)?
Of course they could, and that's not something to dismiss.  Eventually we'll either see the lagging indexes play catch-up, or we'll see the S&P give up the ghost and join the others in a real correction.
What we aren't likely to see is such a split market last much longer than it already has.  Indexes tend to move together, not completely independent of each other.  Rotation can last a little while, but at some point the overall mood turns positive or negative – there's no avoiding it.
All of this is being validated by the chart, too.  SPY has been chopping around in a well-defined range of late.  It has spent almost all of its time within the $184 – $189 range since Valentine's Day, a stretch spanning 64 sessions and 3 calendar months.  Of those 64 trading days, we've seen only 7 closes outside the range, with only 3 of them coming on the top side (this week).  We've seen other intraday attempts to clear resistance, but it just can't pull it off.
SPY – The one guarantee we have is that the range game will not last forever: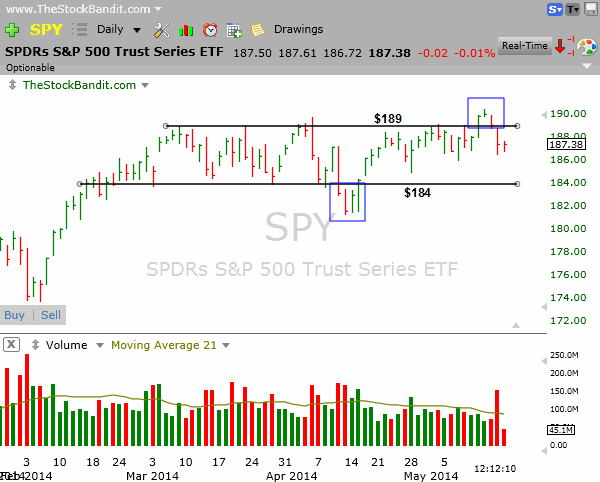 This is the picture of indecision, which is not what the bulls want to be seeing against the highs over the course of 3 months.
The tone may soon be set for a little market tantrum if the bulls don't get in gear quickly.  Even those with longer timeframes will have added motivation to take action if no lasting breakout is able to occur.  Why stay in if the prospects for going higher diminish with each failed attempt?
The breaking point might be approaching.  The good news is that the chart will show it when it does, so use it as a guide and be prepared to take action.
Trade Like a Bandit!
Jeff White
Take a trial to the Stock Pick Service to get my trades.