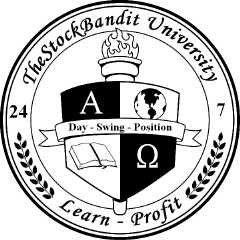 TheStockBandit University is something I put together to equip traders for everything the market can throw at us.  It's been a lot of fun to see the proverbial light bulb go on for those who have completed the course, and has been extremely rewarding to see the difference it has made in their trading.
Profits are certainly nice for them, but it's the enthusiasm and freedom I see them obtain that I find most satisfying.
Take Jay, for example. He's been a professional money manager for 2 decades and recently sent me the following note after going through the courses:
Hi Jeff,

I wanted to drop you a quick note regarding my completion of the Stock Bandit University.

As you know from our numerous conversations, I have been professionally managing money for about twenty years using longer term "investment" strategies using equities and options as hedge instruments for income generation. I inquired about The Stock Bandit University to hone my shorter term "trading" techniques, specifically "day" and "swing" trading.

I'd like to let you know your course is by far the most in depth and educational course I've ever taken. And believe me, I've had a ton of professional training in my twenty year career. The structure of your course is perfect for beginners and more experienced traders alike. It touches on important issues regarding a "trading" career; topics such as proper position sizing, money management techniques, and trading psychology and most importantly, a trading plan. As you know, I purchased the course for myself although my son, who is currently in college and has no trading experience, has been studying your material as well. I believe your courses along with some coaching will allow him to start his own trading business. In short, I would highly recommend your courses to anyone who wants to start or improve their current results from short term trading. The material is invaluable.

Lastly, I just wanted to thank you for your dedication to making yourself available as a personal coach and mentor. It's apparent to me that you have a gift of helping others. I really appreciate your enthusiasm for trading, but more so your willingness to help others. I really enjoy working with you and I look forward to continued success.

Best Regards,

Jay Sivel
President
Sivel Capital Management, Inc.
Wow!
I'm honored that someone with such extensive market experience sent me this.  I've spoken with Jay several times and he's all class.  It's highly rewarding to know that I've helped put him on a better track going forward.
As the second half of 2013 arrives, it's a perfect time to look back at how your year has gone so far.  For most, some adjustments are in order.  It's time for a change that promotes growth and improvement and better skills.
If you're looking to make the rest of 2013 great, this is the place to get the ball rolling.
We'd love the opportunity to help you as well. Whether you're just transitioning into trading and need to be brought up to speed through our Basic Course, or if you've got some experience and just need help getting to the next level with our Advanced Course, we've got something for you.
Best part is that you can start accessing the course materials in just a few minutes and gain lifetime access.  I'm also here to help along the way and it comes with zero risk to you if you're interested in kicking the tires.
Have a Happy 4th of July, and here's to your improvement in the 2nd half!
Trade Like a Bandit!
Jeff White
TheStockBandit University