Here at TheStockBandit.com, we are very proud of the service we offer.  Night after night we do our best to provide value to our subscribers, and we always enjoy hearing feedback from them.  Rather than tell you how much they like our service, we'll just let a few of their comments do the talking!
I've been trading for about 8 months now.  I've been here in Bandit Nation about two months.  While I had learned a lot from the books I had read, I didn't start experiencing reliable success until I joined your website and started learning how to APPLY what I'd learned.  Probably the most important concept I've learned since joining your website was understanding the timeframes I was willing to take with a trade and setting the appropriate stops based on those timeframes, AND learning to let my trades develop.    – Paul H., MA
I'm so grateful for the risk management and discipline that Jeff"s system has taught me this past year. I highly recommend his service to the new and seasoned trader. – Jim R., MO
I just wanted to tell you what a great job you're doing, and how valuable your services are. With a full-time job and a young family I just didn't have the time to search the market to find the best set-ups. With more screen time (on the job training) I'm only going to get better, and your services have me confidently making trades instead of hunting for trades and listening to talking heads. – Omar P., CANADA
Thank you for your service and your incredible insight on how to "teach" others to trade. You are very professional and good at what you do and you have an awesome site from which others can learn. I have learned more from you in the last two months than I have learned in the past year and for that alone … I am thankful. This has been a wonderful investment of my time. – Chris C., LA
Jeff – I want to again thank you for your quick and thoughtful responses to the questions I've had. I appreciate the fact that in a time when it seems everyone is out for themselves, you consistently make it obvious that you are looking out for me, and I'm sure every other bandit out there! I appreciate it, as I'm sure everyone else does. I know it sounds cheesy, but I thought you deserved to know I appreciate your time and effort. – Dennis A., MI
I've been to university, I have a degree in medicine. I can't remember though, ever coming across such an excellent teacher. – Mark P., CANADA
Jeff, Just two positions into my subscription and it has already covered the cost for the 6 months! Thanks again, I am happy I decided to subscribe! – Fred O., NY
Hey Jeff, I just wanted to tell you that I was able to take on several day trades today and four of them were from you and every trade was a nice winner. I just wanted to tell you thanks for doing what you do! – Kurt F., WA
I continue to learn loads from you and I have to say that the clear head that you bring to your market analysis is the best I've seen of any service so far, keep it up!    – Gerald T., TX
I just wanted to convey to you that for the short period of time that I've been a user of your service, I'm extremely happy.  You've proven to be a tremendous asset.    – Terry S., FL
Jeff, we have made so much money in the last 5 weeks….thanks for all your help.  I am learning to look at the market correctly (both ways) because of the leadership you provide.    – Scott T., NV
I started with 25k with another service and was soon down under 10k, but more importantly I was sick of being a monkey; watching, following and not learning.  Started with this service and really took the time to understand Jeff's methodology.  Since starting 2 or 3 months ago I am back to $26,893.21 (that's more than double if you're not counting).  Keep up the good work.    – Korey S., Canada
So far I am very pleased with your system.  I can trade a little easier and learn a lot.  You have made it simple to learn, as a kid can understand what you are looking for in each trade.  You really deserve a handshake and a big thank you.  You seem down to earth and willing to go that extra mile to make sure we don't get on the wrong track.  I am sure glad I found your service.  Wish I had it 4 or 5 years ago, I might have saved a lot of losses……  I will be a longtime customer of yours, and I am glad you take the time to give info and also help everyone with questions.  Thanks again    – Mike F., MI
I have learned more here in 6 months than anywhere.  I have never heard anyone break down the markets with such clarity.  Jeff has a way of shedding some light on the big hairy monster and making it much less intimidating.  – Chuck B., AL
Your picks, educational guidance and your willingness to help others with any trading question is remarkable.  Thanks!    – Sita S., MA
I am super impressed with customer support, thanks for the good answers.  No wonder why it's $100/month, I feel like I am ripping you guys off!  Thanks for the help.    – Chris S., Armed Forces Pacific
I'm finding your service is working very well for me so far.  Great format for alerts.  Nice call on the GOOG short by the way!!  Well done!  I'm finding your comments on each listing are very helpful for me to determine how to trade them.  Keep up the good work.  Thanks!    – Geoff S., CA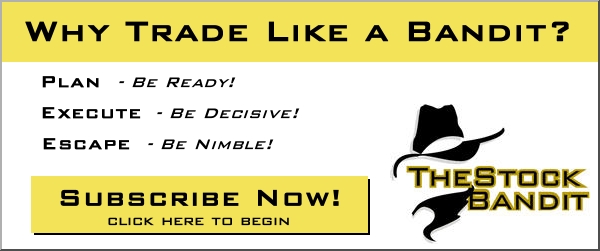 Ready to Trade Like A Bandit?

I just started here last weekend, and I have to say you provide an incredible service.  It's amazing to this old-school guy how you can multi-task like this.  I'm a very satisfied customer.   – Randall B., CA
I have tried many different stock newsletters over the years, and when I started trying TheStockBandit.com 15 months ago I was not sure how it would play out.  Now I strongly believe TheStockBandit.com is one of the best newsletters in the market.  Now I have discontinued my other newsletter memberships after trying TheStockBandit.com.  TheStockBandit.com always provides new setups to trade, with exact entry and exit points, and most of the stocks move the next day.  TheStockBandit.com also follows market trends and will trade both ways and profit from the up and down markets.  In fact, I have found some of the best trade ideas are from the short side.  I have read many stock trading books and I think The Stock Bandit has many of the same characteristics of some of the great traders in our history.  Test drive TheStockBandit.com today and you will find this is one of the best things you have ever done.    – Jack T., California
First of all I would like to start my email with a BIG thank you for the last 2 weeks, all the positions I entered were profitable….All in all, thank you for your efforts.    – Robert S., Lebanon
It was a fabulous day, I am so EXCITED: between Friday and today I grossed $1000 plus….Thanks, THANKS!  If you knew how little money I am working with, that was no mean feat!  I can feel that confidence oozing back…..THANK YOU in capitals.     – Lori B., FL
Things are going great!  Your service is the best.  You have taught me more than I ever planned on learning, thank you!  It never hurts to have a second opinion………. I value yours.     – Rod H., OH
Your newsletter is the best I have ever seen when it comes to finding opportunity "outside the box."  I manage money for a large Wall Street firm, but I get my trading ideas from The Stock Bandit who discovers opportunities without listening to the noise of the crowd.     – Cliff M.
Avoid the noise!

Thanks so much for the help.  You take time with customers, not just their money – that is rare.  Thank you!    – Brett C., MA
TheStockBandit – It's the gift that keeps giving!!  Had a blast with ELOS yesterday!  Paid for my annual subscription already.  You are quietly putting my kids through college!  You are the man, thanks for all you do!    – Bart L., OK
My first Stock Bandit trade was a good one.  That trade (BKS) allowed me to cover the subscription fee for 5 years!  Thank you for the nice call.  You do a good job of finding things I like.    – Steve G., CA
I think your service is about the best for the money….I've looked at dozens and dozens over the past 7 years.  I like to play the short side a lot, and your service provides those picks, whereas most do not.  I have found I can make money without a lot of monitoring using your picks.  I have tried to get the setups similar to what you generate, and if I was able to do that without a lot of hassle, I would.  But I haven't been able to get the tight selections that you do, so I'd rather subscribe than go to all the trouble.  Your work provides this, all I need to do is execute and exit.  In addition, you provide enough picks to choose among them, or diversify.    – Glen J., Canada
Your insights are really a great encouragement to me.  Thanks for teaching me a good strategy!  Thank you again for the great broadcast and your help!    – Michael Z., Canada
Jeff, your calls have been right on, and have generated some big winners for me.  You have a great strategy – look for charts with the perfect set ups, take small losers if they don't work, and let the winners run big.  I have subscribed to a lot of services that were pure bull.  You are the real thing!  Keep the winners coming.    – Mark M., TX
Hello Jeff, I absolutely love receiving letters from you.  I look forward to seeing what you think about the market every night.  Thanks from a lifetime subscriber to TheStockBandit.com!  -Mohammed R., NY
Take charge of your trading today!

I am a reader of TheStockBandit.com for about one month now and I just wanted you to know that I love your publication.  I successfully followed your lead on AAPL and some other longs.  Keep up the good work!    – Max B., TX
Your picks are amazing….Wish I could grab every one….You are going to enjoy writing your newsletter tonight and claiming some bragging rights! (although I sense you are a humble guy).  Many thanks!   – Saroj G., VA
Dear Jeff, One of the reasons I got in the positive column is that I've been using your newsletter.  If I hadn't been exploring new information out there, I wouldn't have found you and your program, so there is something to say for looking at different things!  Thanks for everything.    – Jill S., CO