Jamie Foxx might suggest we Blame It on the Algo's.
But no matter the cause, head-fake breakouts and breakdowns sure seem to be more common. Have you noticed?
Key levels get established and respected for weeks or months, then price makes a run at them, clearing them – but only temporarily. In many cases, we're talking about breakouts/breakdowns of about 1% or less before the reversal sets in, and often by only a few cents.
Let's look at a few examples where this has happened recently:
ABBV is doing it today, having undercut multi-month support by $0.40, less than 1%: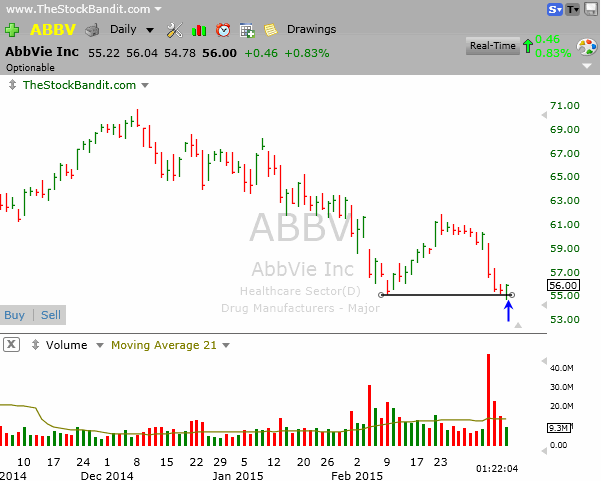 BBY just did it on Friday, pushing 1.1% past the prior high, only to promptly fail. It still has a chance, but it's a failure nonetheless: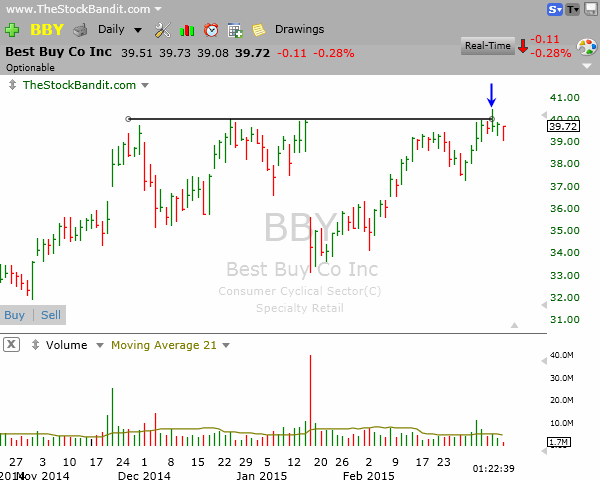 COP broke key support on 1/29 by just $0.20 before rallying $9.47. Today it's approaching that support again, which may or may not hold, but the initial fakedown led to a huge reversal.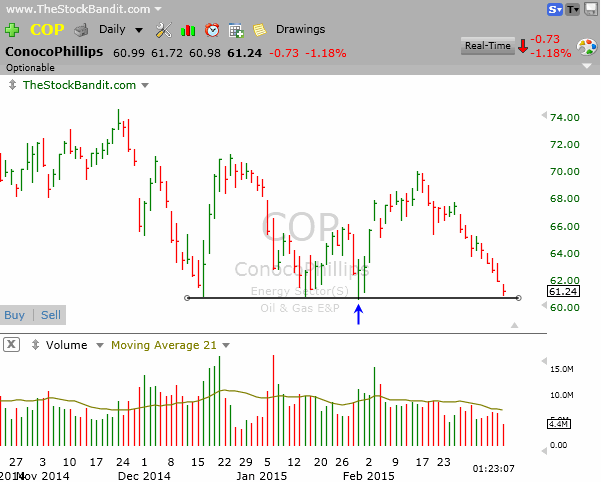 OXY cleared key resistance on 2/13 by $0.49, but only temporarily before rejection set in. It has since rolled right back over, and now is approaching the December low, a.k.a. the bottom end of its range.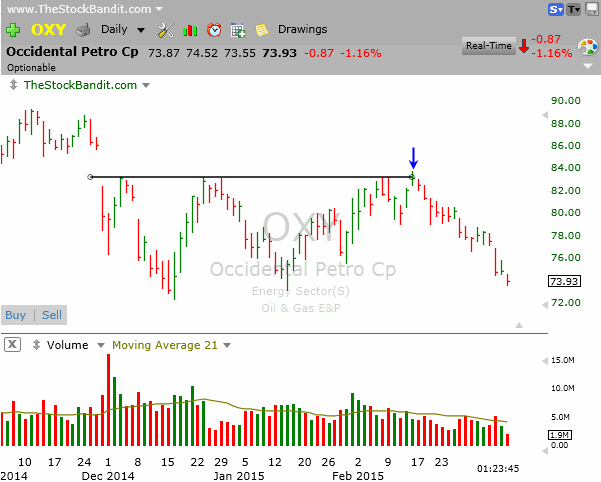 PSX crossed key multi-month resistance on 2/25 by just $0.27 before rolling over more than $6 (and counting).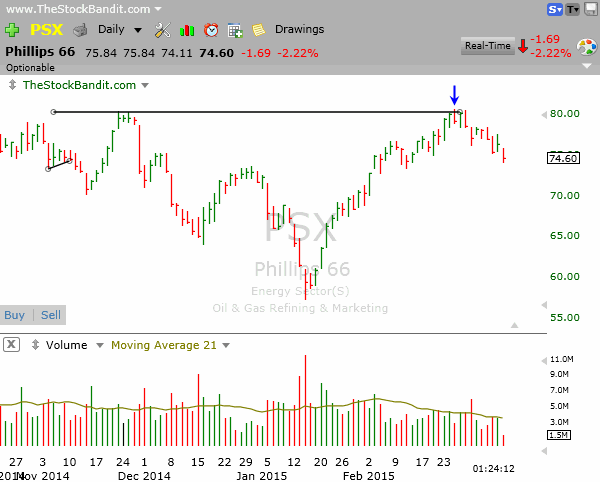 HES got within $0.01 of the December low in late-January (respect!), then rallied all the way back to the December high.  It cleared it by just $0.17 on 2/17.  It has since given up over $8 and is still declining.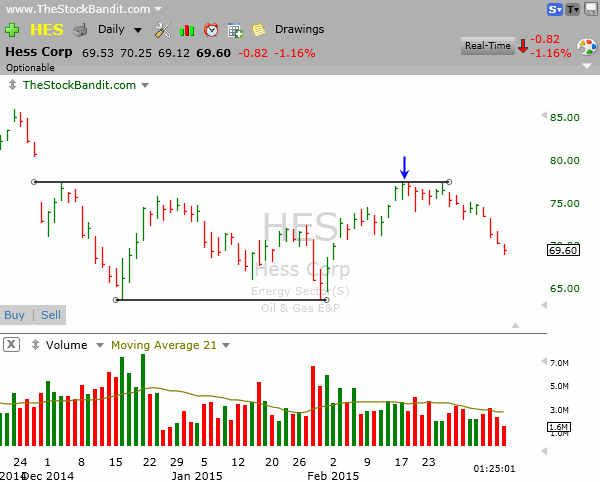 There are a couple of names on the table today trying to break down, so they're worth watching to see if they will stick:
RIG already saw a false breakout on 2/9, only to sell off now for a solid month.  Today it's undercutting the mid-January low, but will it stick?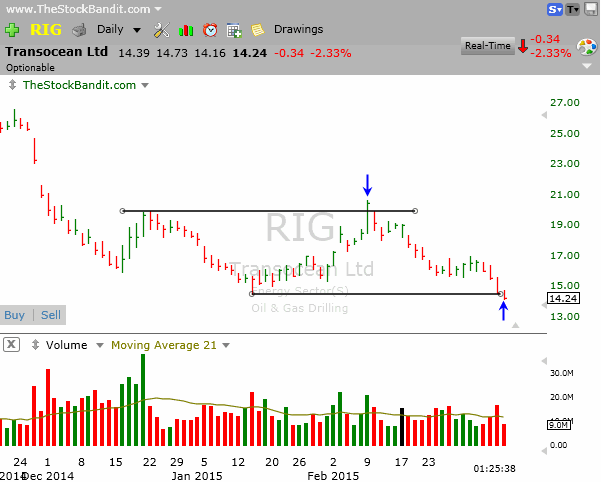 XOM broke the December 2012 low today, but has repeatedly respected (and reversed from) this same zone. It's off 9.5% since Feb. 13, leaving it a little short-term extended.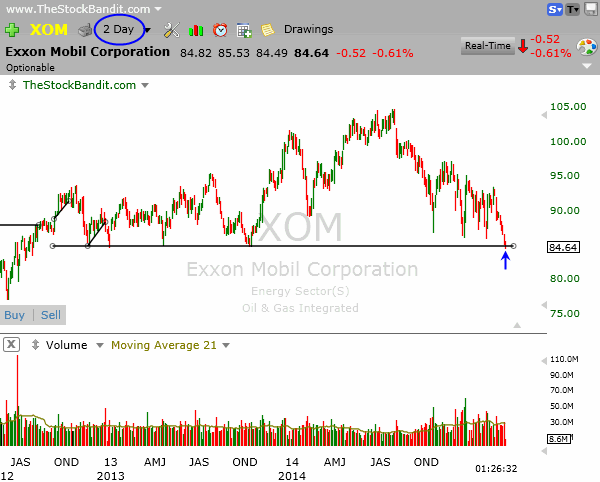 Note that the on-the-table breakdowns today are not being highlighted here as bullish ideas, but merely breakdowns which are underway through the same kinds of key levels.  They might hold the breakdowns  or accelerate lower, or the might reverse.  They're merely examples of this in action right now.
Several of these names are energy stocks, but not all of them. And even among the energy names, we've seen false breakouts and breakdowns, so it isn't as if there was one occasion where the entire sector unanimously head-faked a move.
This is just one of those things that has become more common, and therefore something to be aware of in your trading.
It begs the question: to play the break or not to play the break? There is no perfect answer, it's trading we're talking about!
If you play the break, you'll catch some which go and never look back, while others will promptly reverse. So if you aim to play the key level breaks, one choice to consider is to make partial entries on the initial break and then add once you've gotten the kind of confirmation you like (ex: close beyond key level, pullback to test it, etc.).
Trade Like a Bandit!
Jeff White
Check out the Stock Pick Service to get my trades.
Follow @TheStockBandit on Twitter