GOOG has been not just a tech leader, but a market leader since the November lows, putting up gains of more than 40% from its low to the May high (almost twice the performance of the NAZ).
In recent weeks, we've seen a gradual pullback in a channel fashion, which was resolved higher earlier this month as the stock began a new leg up, presumably to challenge the highs near $920 from May. However, this week, the stock hasn't been immune to broad market weakness and suddenly has a very different look on the daily chart. It's now looking like an intermediate term lower high has emerged (near $910) given the break of rising support off the pullback low.
Time will tell if GOOG is indeed topping, but the astute trader should recognize this as reason for elevated caution. It's grounds for lightening up on long positions at a minimum, even if the bear case still needs some work.
Here's a look at the daily chart, where a lower high is in place for now: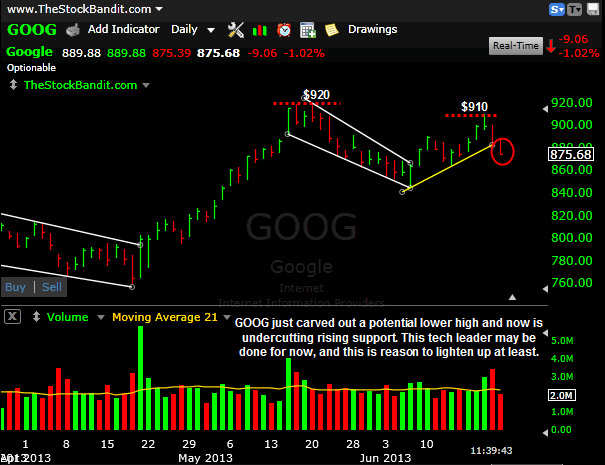 Take a trial to our Stock Pick Service to get our trades.
Trade Like a Bandit!
Jeff White