I'm always working my watch lists in search of great setups to share with subscribers here.  Occasionally, a theme emerges which is worth pointing out publicly.  In this case, I'm sharing a handful of setups with you which all happen to be stocks caught in wedge patterns.
First, let's consider what a wedge pattern is before getting to the charts…
Essentially, price is getting pressured from two sides in a wedge pattern, and those are easily seen with a descending trend line (the upper line) and an ascending trend line (the lower line).  These kinds of patterns present excellent if/then scenarios.  They don't require an entry until a penetration of one of those trend lines is made.
Perhaps my favorite part of these setups is that they can produce rather strong moves.  The compression of price for a while tends to build up some steam, so once a battle is eventually won by the sellers or the buyers, both sides tend to take the same action.  They either both start buying on an upside break (getting long & covering shorts), or they both start selling on a downside break (getting short and dumping longs).
Here are 5 wedges to keep an eye on as they get closer to the apex:
MDVN is nearing a resolution here as converging trend lines leave price facing a directional decision.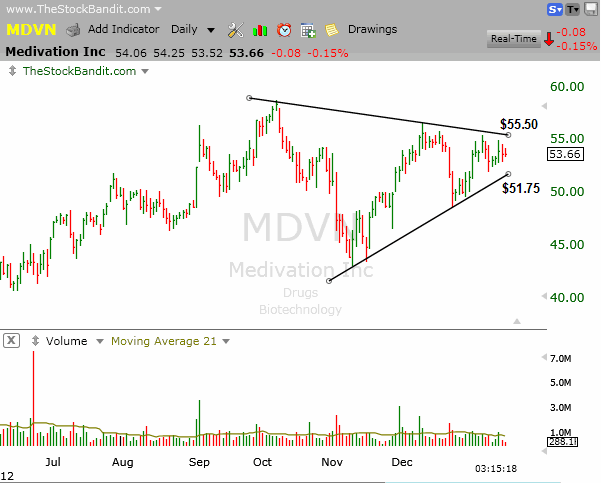 DECK remains in a longer-term downtrend but rising support in recent weeks means buyers are emerging more aggressively after dips.  A turn higher could accelerate the recovery here, whereas a turn lower would squash the hopes of new bulls in this stock.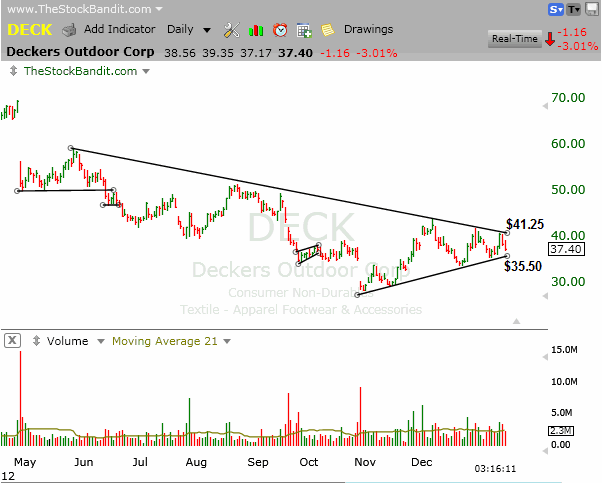 TASR is resting within an uptrend and this wedge offers a potential pivot for the next leg up to begin.  On the flip side, a downside resolution would likely spark some healthy profit-taking.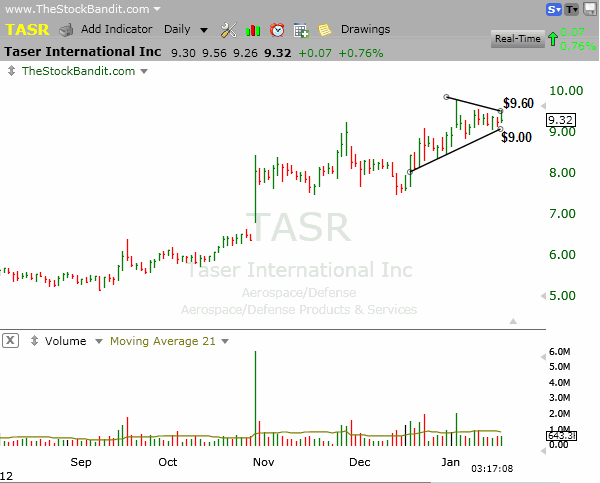 KGC is caught between a pair of multi-month trend lines here, and the next break appears likely to set the tone for the foreseeable future.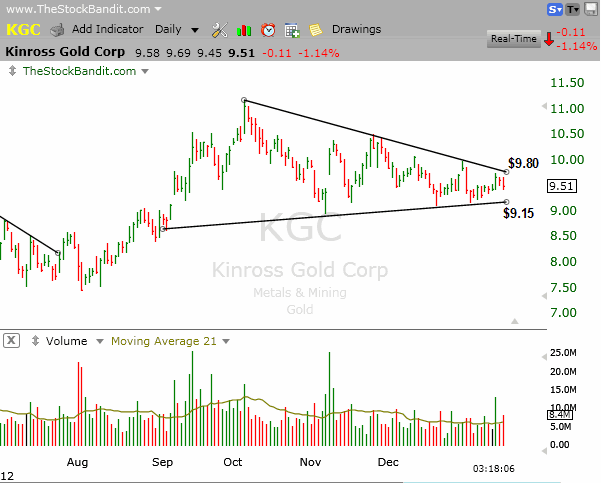 BTU is shaping up after not only holding November support ($23.80) but also the uptrend line which goes back to last summer.  More work is needed if this is to get resolved to the upside, but these two trend lines are the ones to watch.
Through the service, I share swing trade setups with members here 4 nights per week which contain entry, stop, and target levels.  I also produce Charts on Demand for a special Thursday educational video. Check out the trial if you'd like to kick the tires.
Trade Like a Bandit!
Jeff White