Last week we saw each of the major averages able to post gains, although the pace slowed noticeably as the current lift from the Oct. 9 low grew long in the tooth.  There was a little bit of hesitation and some strength was faded, but the bulls were able to make new multi-year or all-time highs for the NAZ, S&P 500, and RUT.  They might be slowing down a bit, but the bulls still maintain the technical & psychological edge for now.
As we head into a new week of trading, it's time once again to take a look at the indexes and the key levels they're dealing with. This will impact how individual names move, so it's where every new trading week begins.
NAZ – The NAZ saw upside opening gaps get filled on 3 days last week, showing that there is at least some desire right now to lighten up into strength.  However, it gained more ground on the week, adding 29 from the prior week.  There are a pair of unfilled gaps down below which could get targeted on any weakness.  On the upside, this index is now just 1% away from 4000.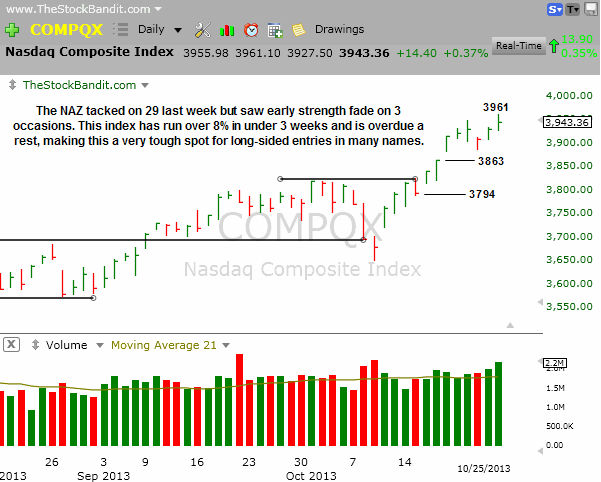 SP500 – The S&P challenged 1759 a pair of times last week after a Wed/Thu pause, and added 15 points on the week.  The prior high was 1729 and there's an unfilled gap to 1733, both of which are levels to watch should we happen to see some selling.  The short-term, intermediate-term, and long-term trends all remain up.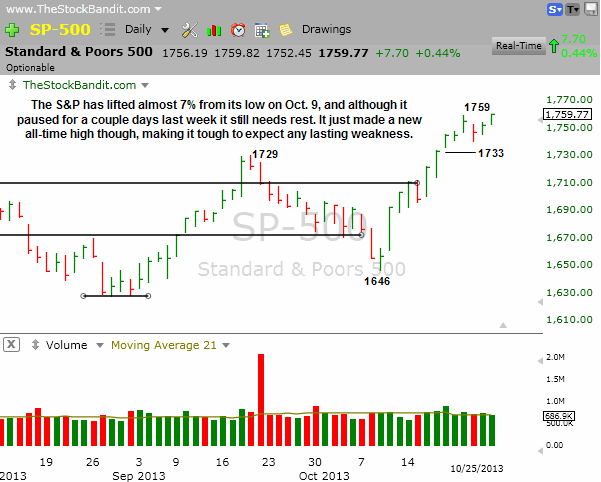 RUT – The RUT reached for another new all-time high last week at 1121, but twice was unable to close above it.  This index only added 3 points on the week, so it was finally able to put in some lateral rest.  Should some selling arrive, I'll be watching 1102 and 1079 as unfilled gaps on the downside which could be eventually tested on a pullback.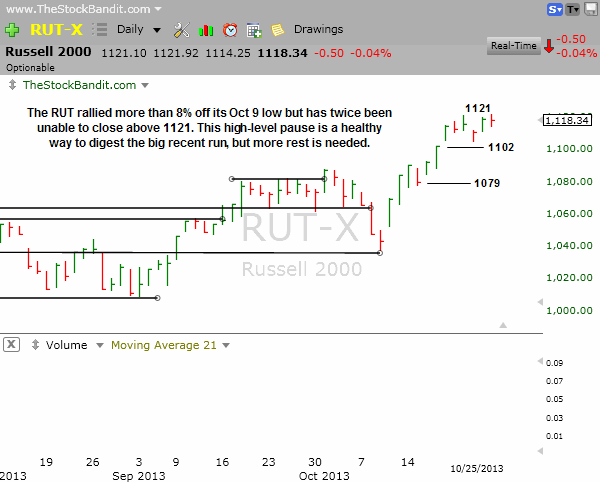 DJIA – The DJIA tacked on 153 for the week and was able to put 15400 in its rearview mirror for the time being.  Next levels to watch on the upside are 15600 (July resistance) and 15709, the all-time high.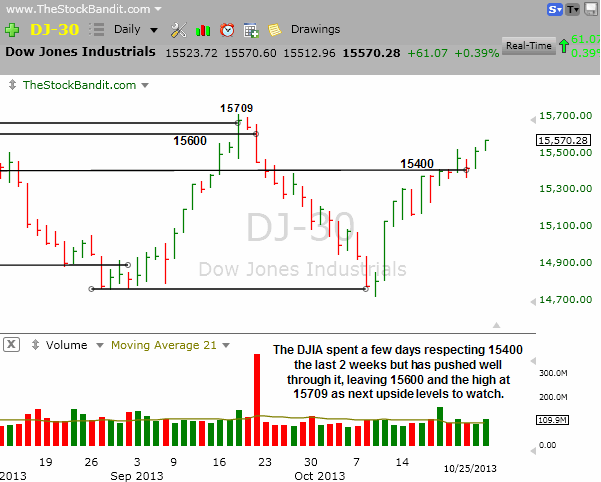 Take a trial of the Stock Pick Service to get my trades.
Trade Like a Bandit!
Jeff White