Last week we saw some new all-time highs created in 3 of the 4 indexes I track, but after that took place, the averages seemed to go their own directions.  Small-caps pulled back hard, while the blue chips held their ground.  Was it simply healthy rotation, or are small-caps sending a signal?
As we head into a new week of trading, it's time once again to take a look at the indexes and the key levels they're dealing with. This will impact how individual names move, so it's where every new trading week begins.
NAZ – The NAZ is carving out a bit of a channel here as it respects the high as well as the closing low of the last couple of weeks.  This lateral price action can of course make for some choppy days, but it's been long overdue and it's finally here, allowing more individual names to base as well.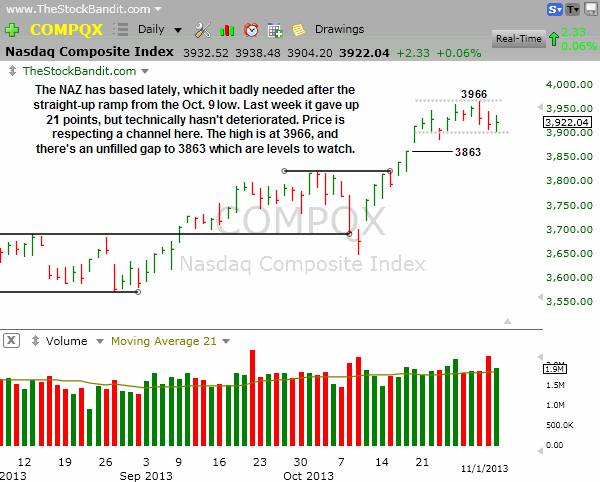 SP500 – The S&P saw a minor retreat off its high from Wednesday, but overall this index remains very strong and technically in great shape.  Should some selling kick in, there's an unfilled gap to 1733.  Otherwise, the current high at 1775 is the level to watch on the upside.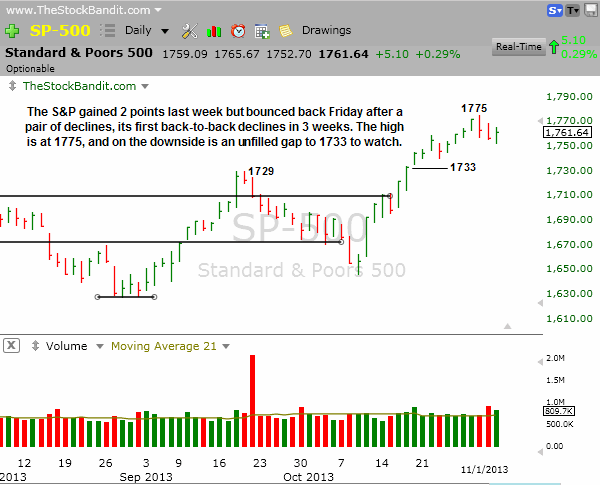 RUT – The RUT saw a hard selloff after setting an incremental new high on Wednesday at 1123.  It pulled back all the way to 1087 on Friday before bouncing from the same level it peaked at back on Oct 1.  Should 1087 happen to get broken, there's an unfilled gap down to 1079.  The last 3-day dip in this index was in early October and led to a giant rally.  Traders won't quickly forget that as we look at the current dip.  Those calling for a top will want to see a bounce fail somewhere beneath 1123.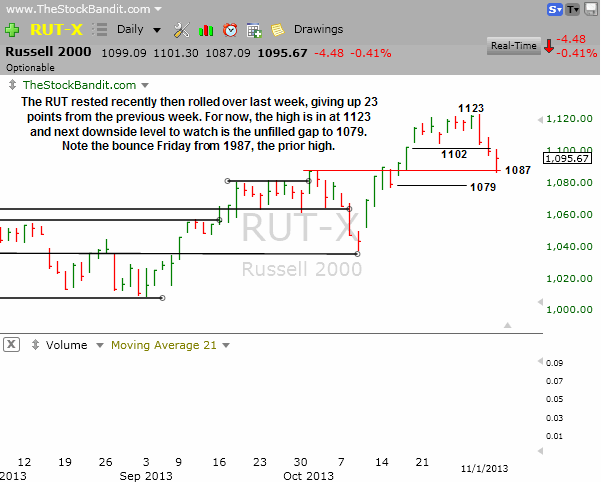 DJIA – The DJIA made an incremental new all-time high on Wednesday, then pulled back and is now hovering near 15600 – a level it has respected on numerous occasions in recent months.  Having just run over 1000 points higher from the October 9th low, this index is entitled to a rest.  Bulls just won't want to see it spend too much time beneath the highs or talk could soon surface of a double-top.  Interestingly, the prior high from September was also an incremental breakout which promptly failed, so we'll see if the breakout last week has a different fate.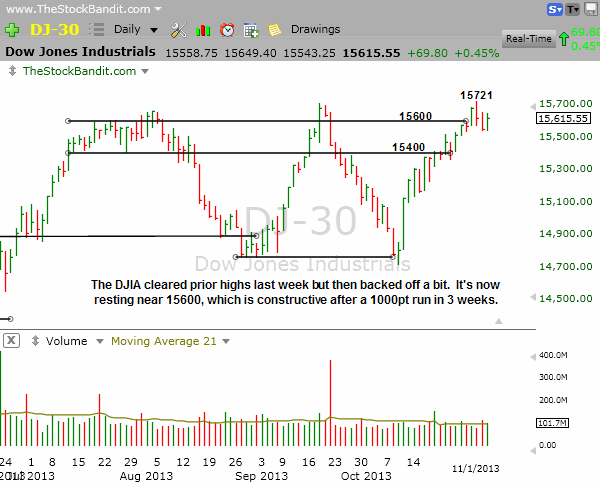 Take a trial of the Stock Pick Service to get my trades.
Trade Like a Bandit!
Jeff White