A holiday-shortened week and light Thanksgiving volume didn't stop the market last week from making some progress as the NAZ pushed further beyond 4000 to cap off a 6-session win streak while the RUT, S&P 500 and DJIA each reached new all-time highs.
As we head into a new week of trading, it's time once again to take a look at the indexes and the key levels they're dealing with. This will impact how individual names move, so it's where every new trading week begins.
NAZ – The NAZ has posted 6 straight advances, leaving it well past 4000.  Perhaps more importantly, it has some 148 points down to the last minor pullback low, giving it lots of room to create another higher low on any dip from here.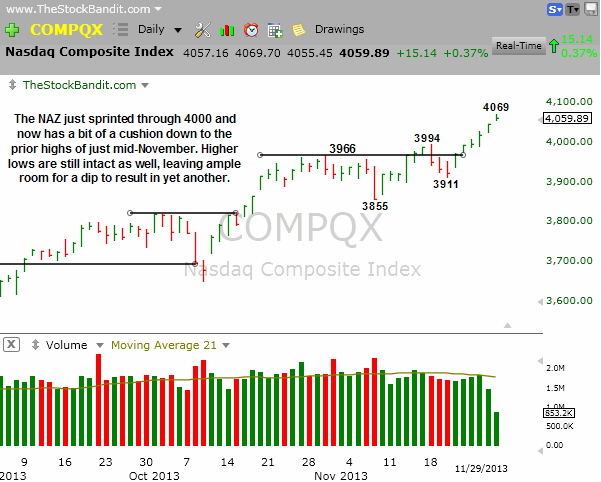 SP500 – The S&P is holding steady just above 1800, but the pace has slowed a bit and now a rising wedge is starting to emerge on the daily chart.  That isn't necessarily bad news, as an upside resolution would negate this, but it's something to keep an eye on.  1775 has proven to be a key level in recent weeks as both resistance and support, making it the first downside level to watch if some selling kicks in.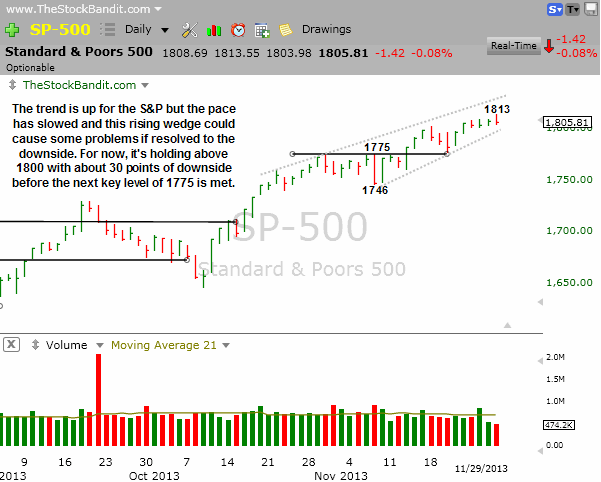 RUT – The RUT hesitated around 1123 but then accelerated some last week to create some separation.  Friday's finish was poor, but it's been a quick run since 1096 and a little rest may be in order.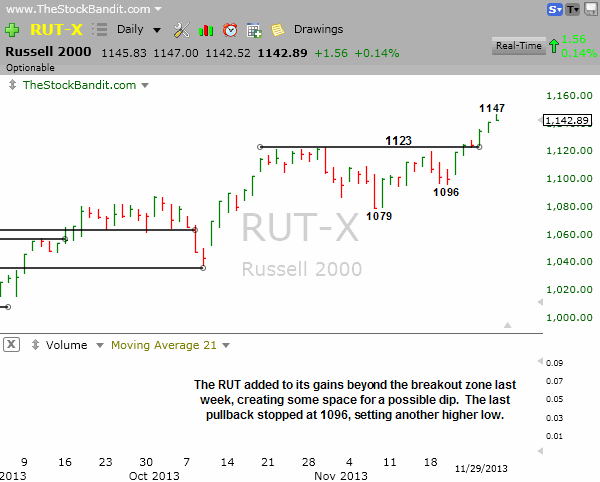 DJIA – The DJIA is still firmly within its uptrend channel here.  On Friday, it got within 26 points of 16200, then backed off into the close.  There's still no negative change of character here though, so the channel remains in effect until proven otherwise.  Watch the channel lines around 16220 and 15950, both of which rise slightly each day.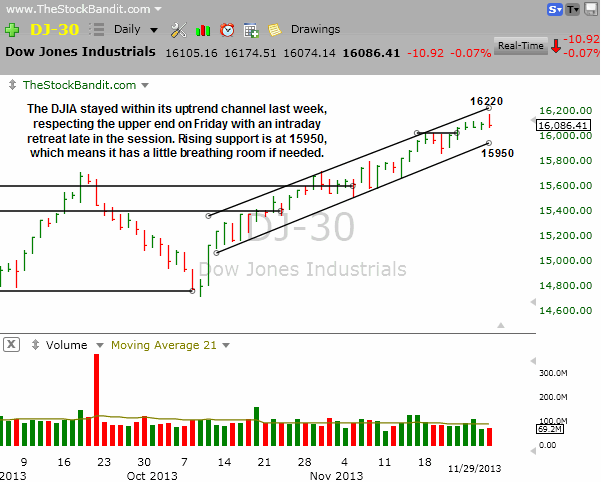 Take a trial of the Stock Pick Service to get my trades.
Trade Like a Bandit!
Jeff White