The buyers continued their domination last week, marking the 4th consecutive weekly gain since the mid-April pullback.
As we head into a new week of trading, it's time once again to take a look at the indexes and the key levels they're dealing with. This will impact how individual names move, so it's where every new trading week begins.
NAZ – The NAZ is up 10.4% since the mid-April low, leaving it very extended with this nonstop move.  Regardless of the near-daily upside progress, getting aggressively long after a run of this magnitude simply involves greater risk as profit-taking will eventually arrive.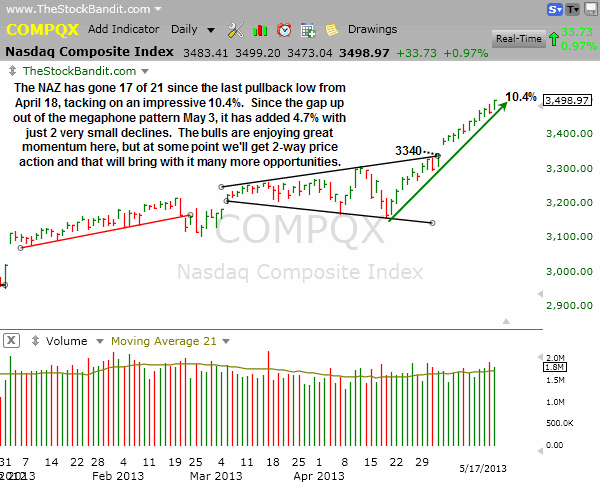 SP500 – The S&P had a measured move projection to about 1665 out of the 67-point trading range (1530-1597) it left behind when it cleared 1597, and on Friday it achieved it plus a couple of points with a close at 1667.  The momentum might last a little longer, but this isn't a spot to be adding long-sided exposure until at a minimum some rest has taken place.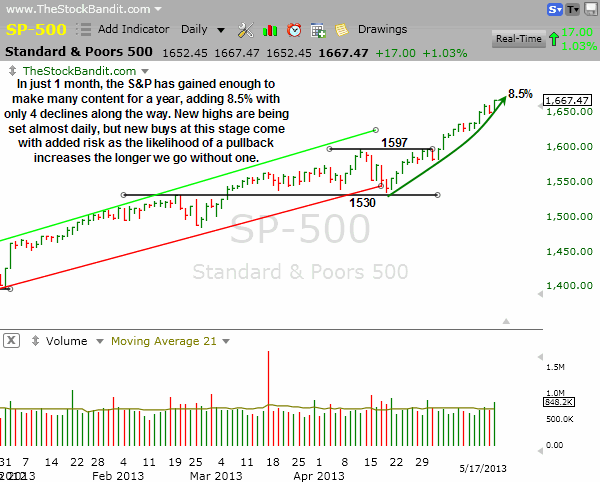 RUT – The RUT is pressing 1000 for the first time ever and is now within 19 points of its measured move to 1015.  This incredible 4-week run has lifted this index nearly 11%, leaving it very extended and well overdue for a breather.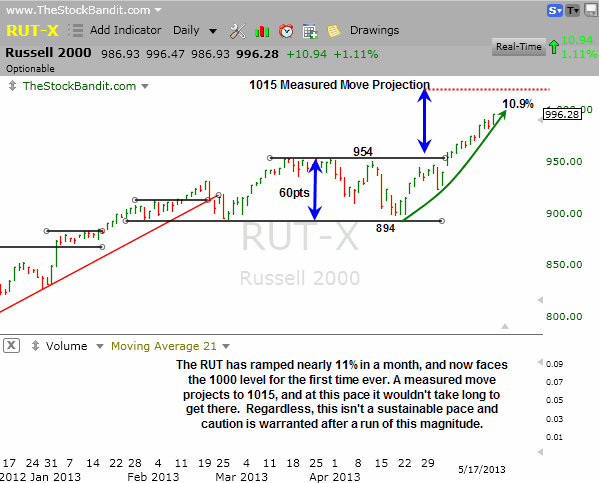 DJIA – The DJIA has nearly met its upside projection as well, closing just 26 points from it as of Friday.  This index is moving at a more sustainable pace (or angle) than the others, but it'll take cues from them.  As they appear very stretched, caution is warranted in this index as well – particularly after this 500-point breakout in just over 2 weeks time.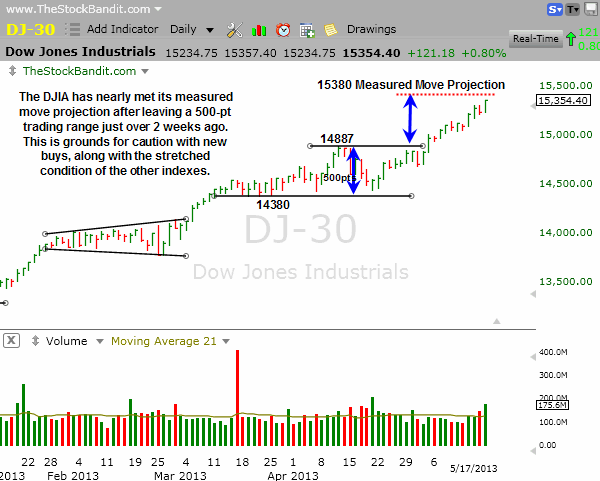 Take a trial to our Stock Pick Service to get our trades.
Trade Like a Bandit!
Jeff White