I'm often asked whether I'm an anticipatory trader or a trader who acts upon confirmation of a pattern, and the answer is that I'm the latter.
Why?  Because I'm willing to enter at a slight worse level (as compared to an anticipatory entry prior to confirmation) in order to have a little higher confidence in the trade working.  It also prevents my capital from being put to work before the stock is on the move, which is nice.
The past few days, I've been watching NTES for a continuation play on the short side.  Here's what it looked like 2 bars ago, and note it had not yet started to break down, hence no position for me.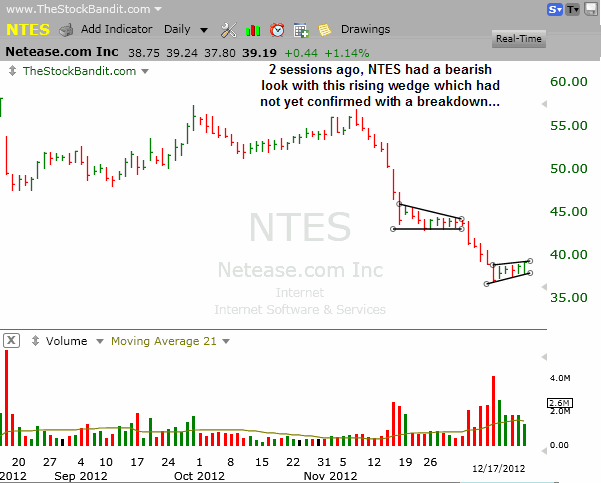 Good thing I waited for a breakdown, because look at the stock today….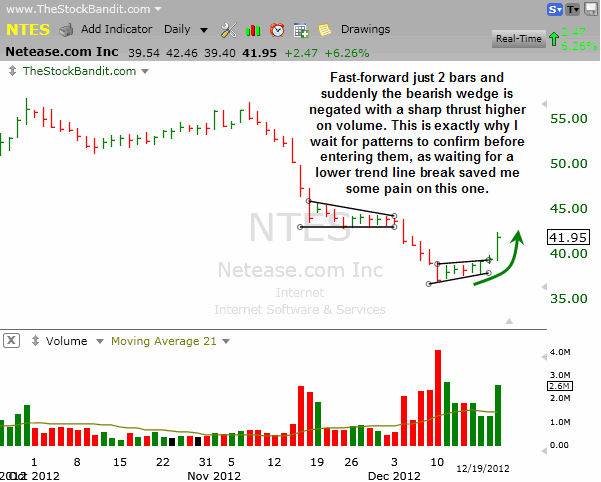 This 2-day lift has negated the bearish pattern which had been building (but which never confirmed with a break of the lower trend line).  Today you could say we even saw a short squeeze with the accelerated move higher, but thankfully I wasn't on the painful end of that.
Perhaps price is heading back up for a test of the $43 area where it broke down in early December, I don't know.  I don't see a bullish play here, and with the wedge now resolved to the upside, I don't see a bearish setup either.  It needs more time to develop before I'll become interested either way.
I prefer to wait for pattern confirmation before entering positions, and in cases like this, I'm certainly glad.  But even if your approach differs, just be sure you're consistent in your efforts.
Trade Like a Bandit!
Jeff White
Take a trial to our Stock Pick Service to get our trades.