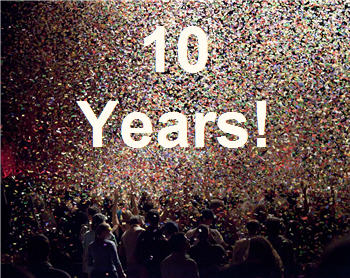 Today's a big day at TheStockBandit, as most 10th Birthdays tend to be. It's been a fast decade since the site launched on June 21, 2004. During that time, I've had the wonderful opportunity to serve a great number of traders, perhaps you're among them.
Today I want to thank you for your role in it, whether that has been as a subscriber or simply a reader at the site or as one who has enjoyed the hundreds of free articles and videos shared over the years – it's all for the purpose of helping you improve, and I hope it has done exactly that for you.
The next decade might go by even faster, but I am sure excited about what the future holds for us.
I hope you enjoy your weekend, I know I'll be celebrating!
Trade Like a Bandit!
Jeff White
Take a trial to the Stock Pick Service to get my trades.
Follow @TheStockBandit on Twitter