The bull pennant pattern is found within an uptrend in a stock.  This pattern is named for the resemblance of a pennant on a pole.  The bull pennant is a continuation pattern with narrowing price action following a strong advance.  The technical buy point is when price penetrates the upper trend line of the pennant area, ideally on volume expansion.
Context:  Found within an uptrend.
Appearance:  The advance has solid volume and the upward price action is strong, which forms the vertical look of a flagpole.  The resting period and narrowing price action is characterized by volume contraction as upside intensity is temporarily interrupted.  This forms a pennant which also resembles a small symmetrical triangle.  The pennant portion of the pattern has highs and lows which can be connected by small trend lines which converge.
Breakout Expectation:  The height of the flagpole may be added to the breakout area at the end of the pennant to determine the expected advance which follows.  This is why the bull pennant pattern is often found in the middle of stock advances as a continuation pattern.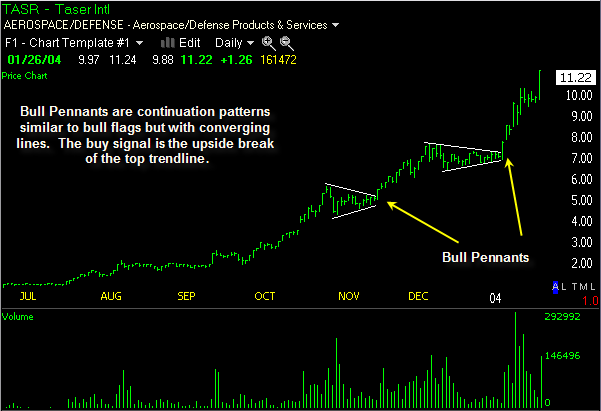 This stock formed a pair of bull pennant patterns during its uptrend.  Each bull pennant was merely a resting period for this stock as it gathered strength to break out and trend much higher.
Members of our stock pick service see us trade bull pennant patterns all the time, as it's one of our favorite patterns.  Come trade with us!
Be sure to learn about the bear pennant pattern too.