The cup and handle pattern is a well-known chart pattern, which is a continuation setup for higher prices.
Cup and handle patterns are found within uptrends, and are named for their appearance which resembles a cup and handle.  This pattern is the result of a resting period in the stock, with the round cup shape followed by narrow price action which forms the appearance of the handle.  The technical buy point is as the stock clears the handle area to the upside, ideally on volume expansion.
Context:  Found within an uptrend.
Appearance:  The cup is rounded, not sharp, and the handle portion is similar to a flag or pennant with slight retracement to the downside or horizontal movement (but no upward movement).  The cup at the deepest point will generally have retraced about 30% of the prior price advance.
Breakout Expectation:  The height of the cup is the expected gain that a breakout should achieve, added to the breakout point at the top of the handle.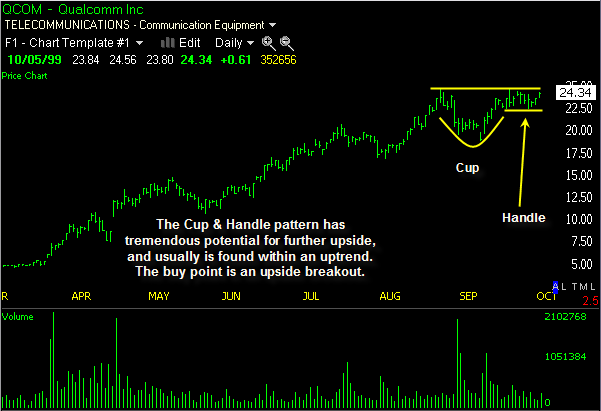 This example of a cup and handle pattern is found in QCOM during its tremendous upside run back in 1999.  After a very clean uptrend, this stock rested and formed the cup and handle pattern before breaking out once again and moving significantly higher.
Members of our stock pick service see us pointing out cup and handle patterns whenever they emerge on the charts.  Come trade with us!