The main event last week was the FOMC meeting, and it did not disappoint.  Tapering began and it was "just right" with stocks ripping higher to show widespread approval.  A day of rest Thursday was chased with follow through on Friday, putting the averages at new all-time and multi-year (NAZ) highs.
This week is of course Christmas week, which means 3 1/2 days of trading rather than the usual 5 (closed all day Wed, closed half day Tues).  The volume is likely to be extremely light as traders shift away from their screens to spend time with family, and then there are just a few days remaining for the year-end window dressing, fund redemptions, and tax-related selling cross-currents.  It's likely a good idea to tread lightly this week for these reasons.
I do want to wish you a Merry Christmas and thank you for reading TheStockBandit.com this year.  My aim is to bring you more useful content in 2014, and if you'd like help taking your trading to the next level via a nightly trading plan, coaching, or education, let's set up a call as I'd love to help you meet your trading goals.
NAZ – The NAZ cleared resistance on Friday to exit its 115pt trading range of the past 6 weeks.  This opens the door for a potential rally toward 4196 if a measured move unfolds. The first order of business for the bulls, however, will be to maintain this breakout and not let it fail.  Quad witching and index fund rebalancing delivered giant volume on Friday.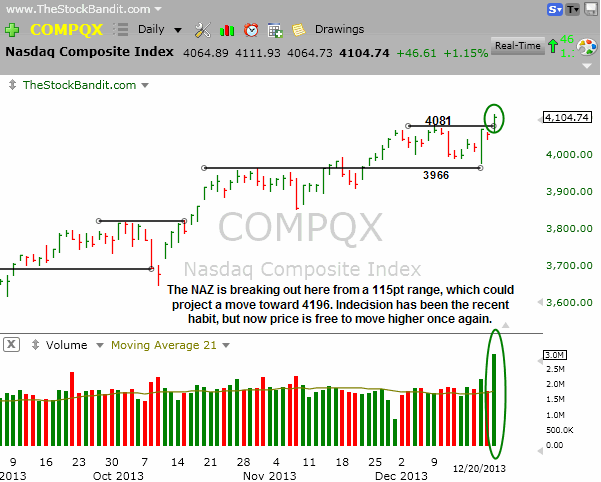 SP500 – The S&P pushed past 1813 on Friday to break out to a new all-time high.  The finish off the session high only left this index 5 points above the breakout zone, which isn't a lot of breathing room.  The bulls will want to build on this breakout now to avoid a failure, but a measured move to 1851 is now on the table.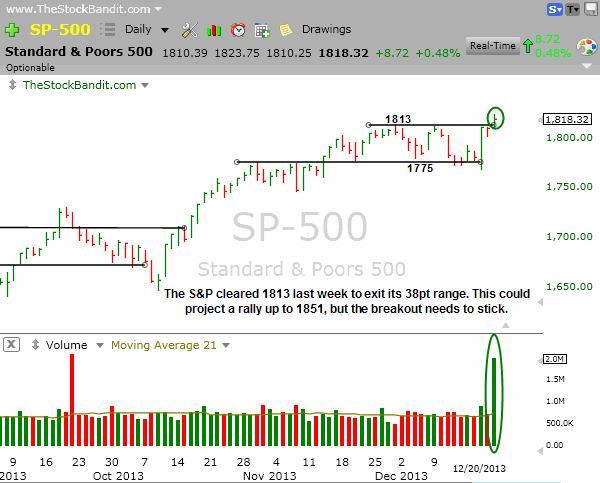 RUT – The RUT tested 1099 less than two weeks ago but rallied right back to make an incremental new high on Friday as it cleared 1147.  It ended the week within a half point of that level, so a more convincing breakout will be needed if this is to avoid the look of a failure at resistance.  The bulls have momentum though, so we'll see if they can propel the small caps higher.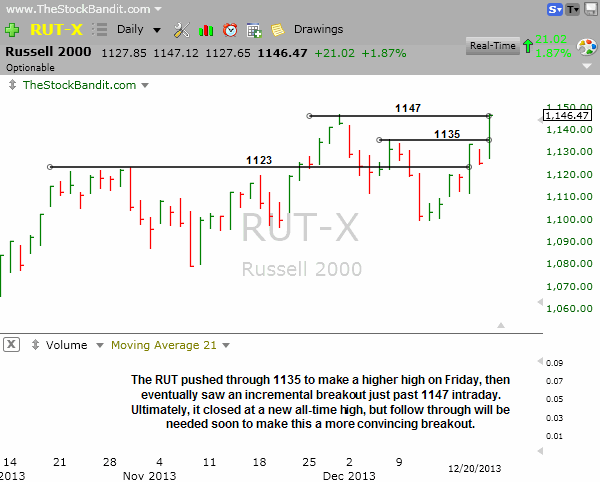 DJIA – The DJIA faded from its session high on Friday but still managed a 3% jump on the week to reach a new all-time high.  The quick turn back up on Wednesday post-FOMC found follow through in both of the next two sessions, which shows the bulls are taking care of business.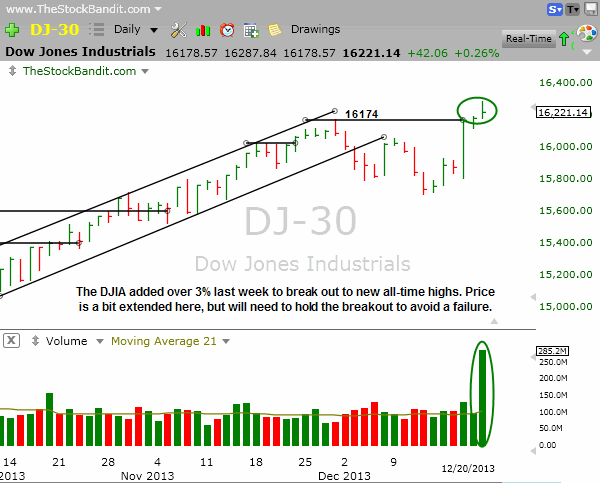 Take a trial of the Stock Pick Service to get my trades.
Trade Like a Bandit!
Jeff White