Snapback attempts failed spectacularly last week as the Thursday/Friday selling pressure easily erased the upside of Tuesday/Wednesday.  Lower highs have been established, and the bulls are behaving as if they have no intention of providing support.  Momentum has shifted and it's good to have cash on hand as the correction continues.
As we head into a new week of trading, it's time once again to take a look at the indexes and the key levels they're dealing with. This will impact how individual names move, so it's where every new trading week should begin.
NAZ – The NAZ now has 3 confirmed lower highs since topping in March, and now it's coming into a major level of 3966.  We've seen a couple of triple-digit declines here though, which is to say it's an emotional tape and not necessarily one which will show respect for key levels.  The outlier factor is that it's short-term stretched on the downside as it comes into this key area, which may allow for a bounce.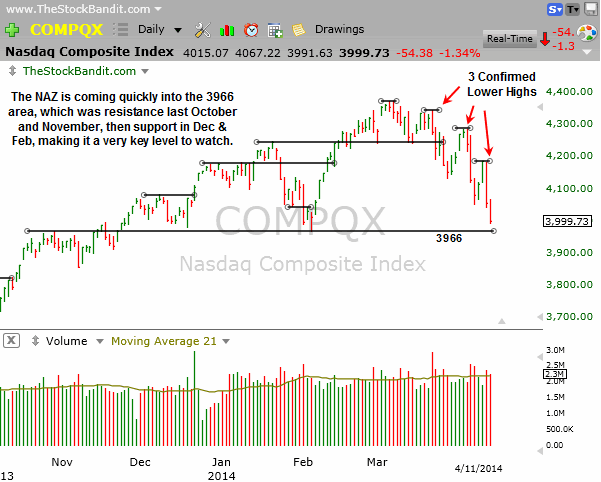 SP500 – The S&P decisively broke 1850 last week and then 1823 by Friday's close.  The failed bounce mid-week created a lower high and now prices are hitting the dirt quickly as more retracement of the February lift unfolds.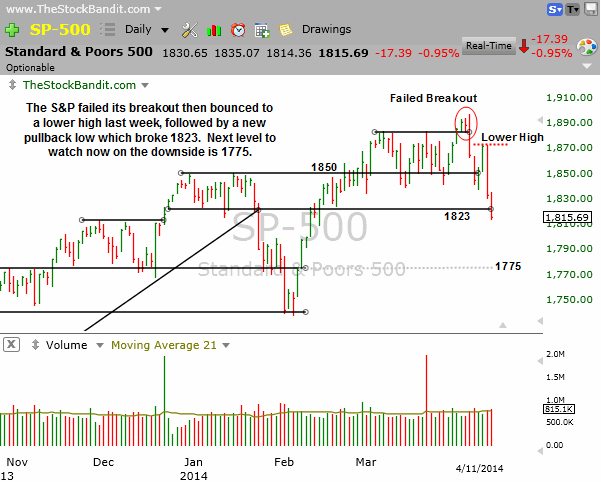 RUT – The RUT is hitting the dirt hard here and also has 3 confirmed lower highs in place.  Next potential area of support is 1079, and at the pace it's moving, that's not too far away.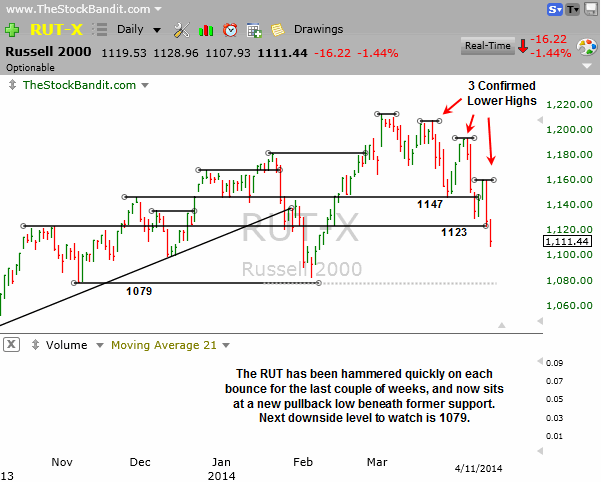 DJIA – The DJIA failed its breakout attempt, fell back into the range, bounced to a lower high, and now is trying to break down from the range.  If it's successful, there's no nearby support zone to watch and we could see the selling pressure intensify quickly.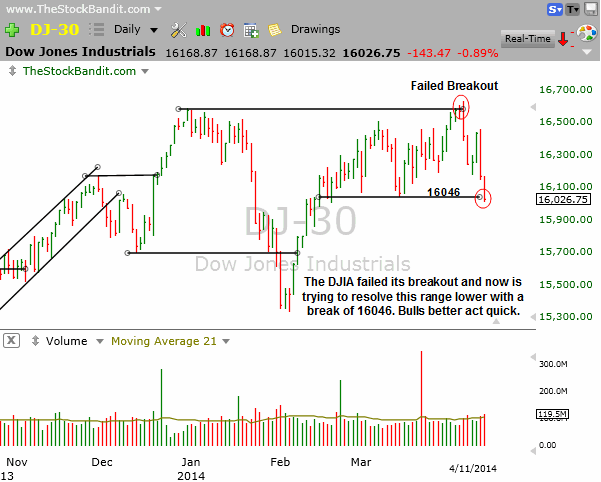 Trade Like a Bandit!
Jeff White
Take a trial to the Stock Pick Service to get my trades.
Follow @TheStockBandit on Twitter