A rounded bottom or saucer pattern is not a common pattern, but is highly reliable as a reversal pattern with bullish implications.  This pattern is found in downtrending stocks, and is characterized by the rounded shape of the lows with no downside spikes.
Context:  Rounded bottoms occur at the end of downtrends and often will take much more than a few days to form this chart pattern.
Appearance:  The rounded bottom or saucer pattern is formed by taking a curved line to connect minor lows over the course of many days to a few months.  The low during this time needs to have held and not been tested, allowing for upward sloping sides to form the saucer or cup look of this reversal pattern.  The minor highs prior to and after the ultimate low can be connected with a trend line which is horizontal and acts as resistance.  An upside penetration of this trend line is the buy signal, and occurs ideally on expanding volume to indicate high participation on the buy side.  This pattern resembles a cup and handle pattern, but lacks the handle and is found within downtrending stocks rather than uptrending stocks.
Breakout Expectation:  A breakout from a rounded bottom pattern occurs when resistance is broken, and these patterns often make lasting lows which provide much upside potential, making them bullish reversal patterns.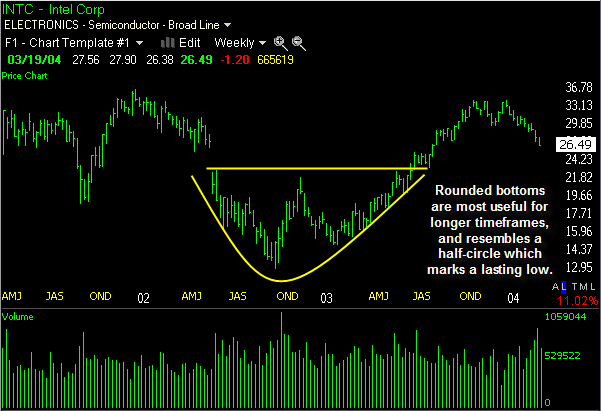 This stock formed a rounded bottom pattern after a big price decline.  Once price penetrated the resistance formed by the horizontal trend line, the stock reversed the downtrend and moved considerably higher for many months.
Rounded bottom patterns can offer nice reversal opportunities, so we highlight them for members of our stock pick service anytime they're seen on the charts.  Come trade with us!