A triple bottom is a reversal pattern with bullish implications composed of three failed attempts at making new lows in the same area, followed by a price move up through resistance.  This pattern is rare, but a very reliable buy signal.
Context:  This pattern is generally found within low trading ranges following downtrends, and the break of resistance which confirms this pattern is what makes it a reversal pattern.
Appearance:  Triple bottom patterns are found at the end of downtrends where price makes three attempts at a new low.  These attempts are spaced apart often by multiple weeks.  The support area which price fails to penetrate does not have to be the exact same price, and multiple attempts to decline into the same area may be considered a potential triple bottom.  During this time, a support level is established which forms a trading range between the lows and overhead resistance.  The upside break of this resistance confirms the triple bottom pattern, which is a technical buy signal.
Breakout Expectation:  Triple bottom breakouts often will make at least a measured move higher.  To determine the upside price projection from this pattern, measure the height of the trading range during the triple bottom pattern and add it to the resistance level once it is penetrated to the upside.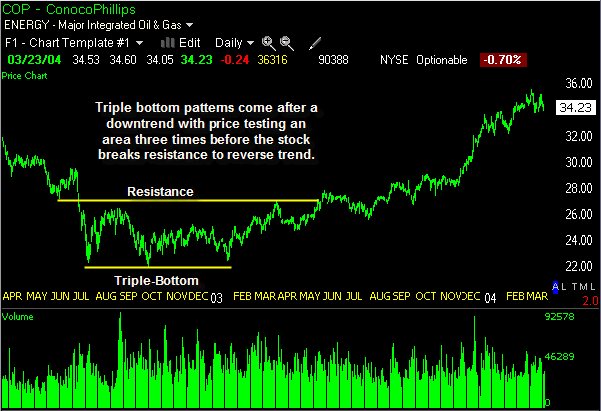 This stock formed a triple bottom pattern after a big price decline.  Once price penetrated resistance to the upside, the stock moved considerably higher.
Be sure to learn about the triple top pattern.