Momentum traders have flocked to TSLA since early May, attracted to both the volatility and the liquidity in the name.  With an Average True Range north of $7 for nearly a month, there's plenty of movement on any given day.
And yet, since the high was set May 29th, the stock has been wedging.  Rising support going back to mid-May remains intact, and now there's a descending trend line along the highs.  These trend lines are converging, squeezing price tighter by the day.
This sets up a compression pattern which could be resolved one way or the other any day now.  What appeals to me about this kind of pattern is the fact that anyone taking anticipatory actions ahead of the break who happens to be directionally wrong will have to unwind their position.  For example, suppose the pattern resolves higher.  Bears shorting in expectation of a decline will have to take the same action as bulls who are entering because of the break.  That means both camps take the same action, which is why these can lead to some very explosive moves.
Here's a look at the daily chart, and it's clear to see where the battle lines have been drawn: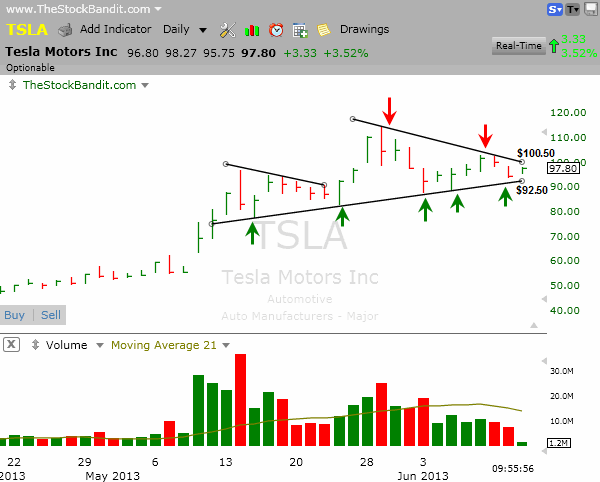 Note the smaller but similar wedge which price exited on May 23 for a big 3-day rip.  These setups can pay off nicely, and quick.  Best bet is to wait for the break, as that will provide confirmation of the next direction.
Take a trial to our Stock Pick Service to get our trades.
Trade Like a Bandit!
Jeff White