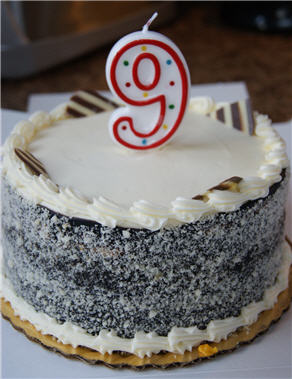 Today TheStockBandit turns 9, which is yet another big milestone I'm both thankful for and excited about!
It was June 21, 2004 that I began putting out a nightly report via the website as opposed to just email as I had done for awhile prior to then.
Since that day, the site has grown in popularity and reputation as a result of consistent work that has aided traders literally all over the world. There have been easy and profitable times, and there have been tough periods as well, but overall it's been a joy to have the opportunity to help traders grow in their abilities and skills in the market.
Now 9 years later, we're still going strong.
There's plenty of ongoing free content here to help those of you who aren't subscribers, but through the stock pick service I'm providing more in-depth analysis, stocks to watch, and of course my personal detailed trading plan.  This week, for example, short positions (no longs) in SCCO, FSLR, and TSO allowed us to book nice, quick gains.
Additionally, our stock trading courses continue to prepare traders for all kinds of market conditions, allowing them to roll into different strategies when the market conditions shift (as they did this week).
There's zero risk to kick the tires on what we offer, plus I'm always available to help subscribers and course students. For those curious about what it is we do, we'd love the chance to show you why we've thrived this long, as there are many reasons.
Trade Like a Bandit!
Jeff White
Take a trial to the Stock Pick Service to get my trades.