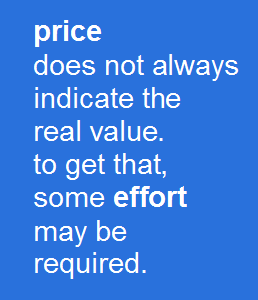 Each of us, when faced with the choice of how much we'd like to get out of something we're paying for, would like to say we want some multiple in value above and beyond the price tag. But in order to do that, some effort may be required.
Take for example your smartphone. There are lots of bells and whistles you might or might not be using. Maybe it's the camera or the calendar or an app you could install for free that could be a big difference-maker, but you just haven't explored it to see how many ways it might make your life easier. If all you ever use it for are checking email and making calls, there's a lot of untapped potential right there in your hands. You could do so much more with it, but it's going to take a little effort on your part to maximize (and fully realize) the value.
Or take the service or the trading courses provided here. The prices are clearly stated, yet there's a tremendous multiple in value offered in exchange. And while the nightly ideas from the service and a shortened learning curve from the courses are in themselves well worth the price, that's only superficial. Under the surface exists the potential to realize far greater value – you just have to want it.
A 2-Way Street
To explain what I'm talking about, let me mention a couple of Bandits and show you how they maximize the value here. (And yes, the names have been changed to protect the innocent!)
There's Dave. He's retired and has several decades of trading experience. He knows his strengths and his weaknesses. And while that previous sentence may sound overly simple, there's a LOT to it. Dave has the humility to admit his weaknesses, which also means he has the guts to work on those weaknesses. I love that! He emails me 2-3 times each week, asking questions ranging from how he executed his trade plan to how I manage certain aspects of my own trading. Iron sharpens iron.
Or there's Stephen. Over the past month alone, he's emailed me 9 times. Each one is concise, so it's very easy for me to respond to. And yet each one contains some thoughtful questions about his trading habits and how he can modify them to see better results as he hones his skill through the courses he's enrolled in here.
Both of these traders benefit from the "features" of the respective products they were willing to pay for, but both are finding value beyond the price tag.
They each identified opportunities to realize even greater value here, and as a result of their added effort they're tapping into my experience and improving their process.
They're not just equipped with more or better plays each day when the opening bell rings. They're not just passively accepting the info I send their way. They view it as a 2-way street, and that makes a huge difference. As a result, they're backed up by a veteran trader who cares about their improvement and works with them to help ensure progress is made to match the effort they're putting forth.
I love the opportunity to discuss trading with these guys and others to help them grow and improve. I wouldn't offer it otherwise. The two mentioned above each happen to have more years in the market than I do (I began in '98), yet they're both teachable and have a burning desire to learn and make better progress in this passion called trading. I share that same desire, and I'm honored to get to be part of their journey. They inspire me to continue working on my own trading skills, reminding me to ask myself the hard questions for the sake of continual progress toward long-term success.
Is there any other way?
It's Up to You
If you're a Bandit member and you're not reaching out to me when you have questions or trading situations where another view might help, then you're not maximizing your investment here. I'm available, and you know where to reach me! I'm willing and able to help you – all you have to do is ask.
If you're not yet a Bandit, then by now you should be seeing that there's much more available here than what you see on the surface. There's tremendous value available beyond some great trades or instruction, so if you're wanting some assistance with your own process, this is one place you can expect to find it.
Trade Like a Bandit!
Jeff White
Enroll in my trading courses to shorten your learning curve or subscribe to my Stock Pick Service for my trades (and much more).