The breakaway gap is a significant development and has strong implications in the direction of the gap for the stock.  Breakaway gaps occur when prices jump outside of a recent trading range or consolidation area.  This may happen when a stock opens well above any high made recently or well below any low made recently, as a result of sudden extreme optimism or pessimism.  Breakaway gaps are not filled quickly, and leave a blank space on the stock chart.  Breakaway gaps often occur as resolutions to common chart patterns, as traders identify a pattern and rush to be the first into the trade.  Identifying breakaway gaps properly can lead to very reliable trading signals, particularly when they occur on high volume.
Examples of Breakaway Gaps: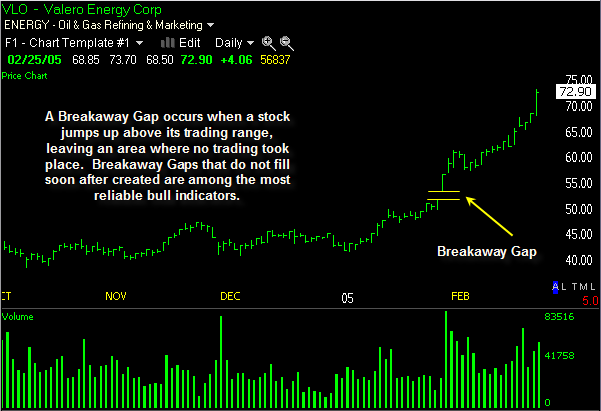 The example above shows a breakaway gap to the upside which occurred in this stock prior to a big uptrend.  The breakaway gap was not filled and price moved swiftly higher.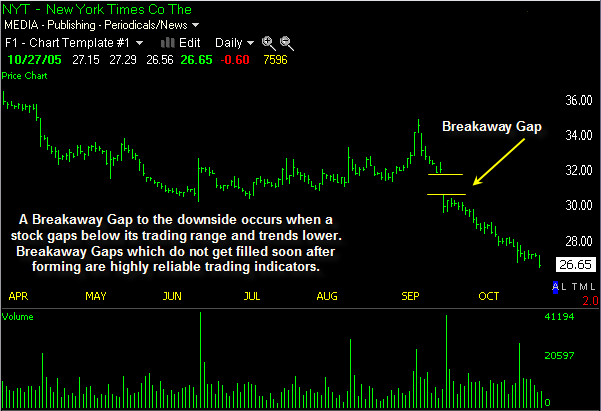 The example above shows a breakaway gap to the downside in this stock.  At the time of the stock gap, price jumped below the multi-month trading range and trended lower with ease.
Be sure to learn more about stock gaps such as common gaps, exhaustion gaps, and runaway gaps.