The runaway gap is a stock gap that occurs within the emotional context of a price move, as traders become impatient and are willing to chase prices in the direction of the prevailing trend.  An upside runaway gap will often occur in a momentum stock as buy orders dwarf sell orders overnight due to traders rushing to buy the stock.  This causes the stock to open significantly higher than where it closed the previous day.
A downside runaway gap will often occur in a stock which is moving swiftly lower, as the selling intensifies and owners flood the market with sell orders overnight in an attempt to exit their positions.
Runaway gaps are not filled very quickly, as prices are skipping to the next trading levels.
Example of a Runaway Gap: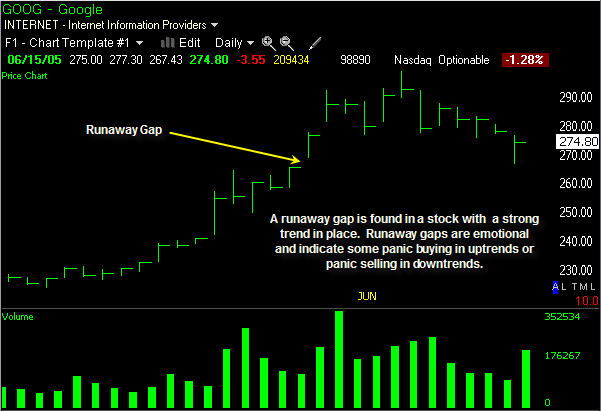 The example above shows a runaway gap to the upside which occurred in this stock during a lengthy uptrend.  The runaway gap was not filled for some time as price continued higher.
Be sure to learn more about stock gaps such as common gaps, exhaustion gaps, and breakaway gaps.